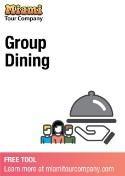 There are hundreds of restaurant options in Miami. But which best meets your needs? Private dining rooms, loud or quaint atmosphere, food type, consistency? Your Miami Tour Company team has the answers to each of these questions.
Our Group Dining Guide is divided into three sections,
1.
Restaurant suggestions
2.
La Carreta special menu
3.
Top restaurants in Miami
Here are some good restaurants that are prepared to serve groups and large parties
We have experience taking private charters to all these places:
Ball & Chain
Bubba Gump
Jimmy'z
Joe's Stonecrab
Michael's Genuine
Mango's Tropical Cafe
Peacock Cafe
Rusty Pelican
Smith & Wollensky
The Knife
Time Out Market
Versailles
Wynwood Kitchen & Bar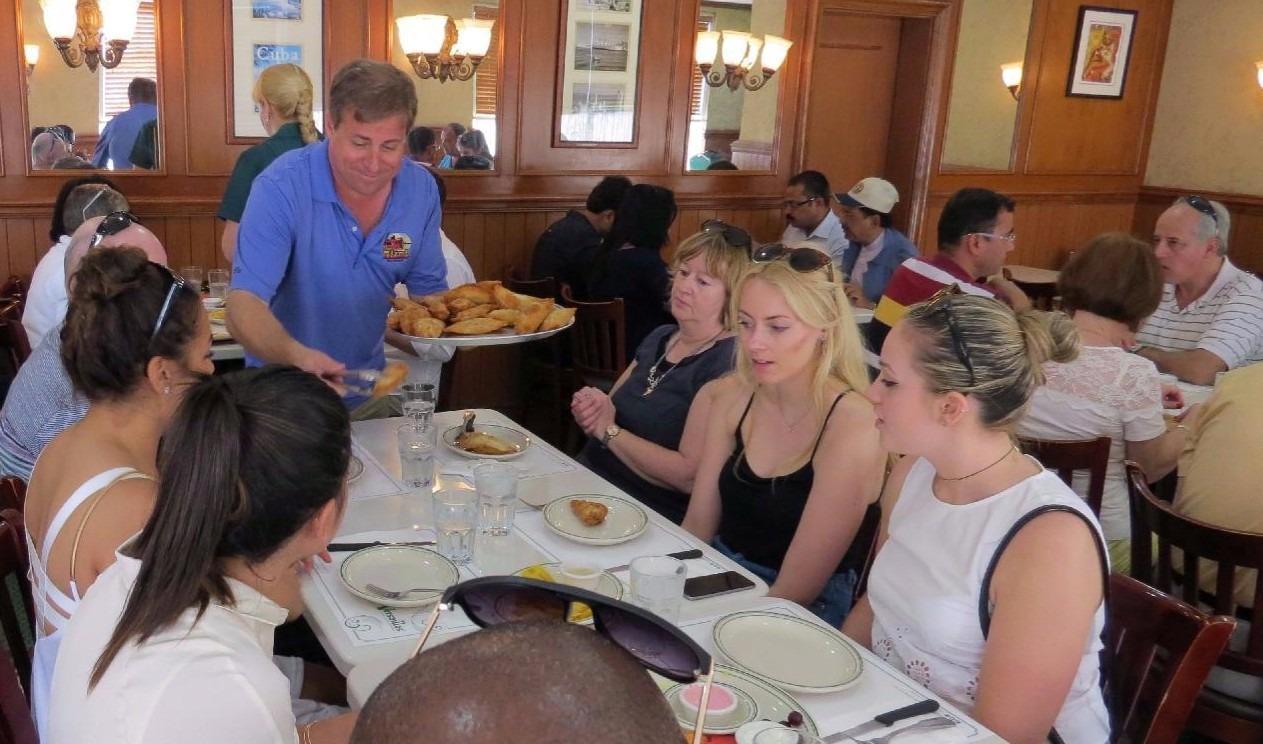 La Caretta Cuban Restaurant
Many of our clients have us arrange a meal for them at
La Caretta Cuban Restaurant
in Coral Gables. Groups can order from the menu, or choose our family-style option, which includes:
Cuban sandwich, chicken empanada, salad, rice, beans, cheese and guava pastry, and Cuban coffee
.
You can learn much more about Latin cuisine, on
the Little Havana Dining Guide
, which also includes a Cuban food glossary, popular menu items, and good places to eat.
---
Top Miami Restaurants in 2021
We've compiled the highest-rated restaurants in Miami—the ones that received the most attention and positive feedback from our customers and us.
Top 3 Brunch Restaurants
Nikki Beach
Prime Fish
Juvia
Top 3 Waterfront Restaurants
Smith & Wollensky
Monty's
Rusty Pelican
Top 3 Restaurants in Wynwood
Jimmy'z
Coyo Taco
Wynwood Diner
Top 3 Restaurants in Little Havana
El Exquisito
Ball & Chain
El Cristo
Top 3 Restaurants in Miami Beach
Puerto Sagua
11th Street Diner
La Sandwicherie
Top 3 Restaurants at Bayside
Tradewinds
Largo
Chili's
Top 3 Restaurants with Amazing Views
Verde at Pérez Museum
Amara at Paraiso
Area 31 at Epic Hotel
Top 3 Restaurants for Sunsets
Rusty Pelican
Monty's
Juvia
Top 3 Restaurants for Gluten-Free
Harry's Pizzeria
Essensia at Palms Hotel
Lilikoi Organic Living
Top 3 Restaurants for Vegan
Full Bloom
Mana Life Food
Planta South Beach
Top 3 Indian Restaurants
CHOTU
Ayesha Indian Fine Dining
Akash Miami Beach
Top 3 Chinese Restaurants
Tropical Chinese
Blackbrick
No Name Chinese
Top 3 Restaurants in Key West
Blue Heaven
Louie's Backyard
Better Than Sex - A Dessert Restaurant
---
What you should do now
1. If you would like us to help you plan a special meal or dine around —
to dramatically improve the satisfaction for everyone in your group (like we did for
all these people
), then call us at
305-260-6855.
On this free phone consultation, Michelle, Monica, or Carolina will discuss your needs and suggest strategies to save money. We can do everything from a South Beach dine around, to a sit down meal and one of our favorite restaurants.
2. If you are traveling alone, or with a small group
, we encourage you to come do the Miami To The Max half-day tour of the city
(not private).
We stop for lunch in Little Havana. After, people often say, it was the best thing they did on vacation.
Go here
and view the options.
3. If you are still in the planning stage
, use our
"Planning" section
to learn about everything from private charter rates and dining options to travel itineraries, site inspections, and fun things to do.
Enlist our expertise for your Miami restaurant selections + turn-key coordination.