Miami Tour Company is the leading provider
of
day tours
and
private charters
in Florida. We accept reservations online and by phone.
Gift cards
are also for sale on our website.
Our company is family owned and operated, and believes that everything we do is to create a wonderful experience for you. We do this by making the tours fun and treating customers like family.
In short,
We have been producing extraordinary Miami tours since 2008, and have transported more than 600,000 happy customers, as evidenced by over 1,000 reviews and video testimonials, many of which describe us as "the best thing they did on vacation".


We are a strategic partner for travel agencies and meeting planners worldwide. We have extensive local knowledge and expertise producing events, activities, tours, transportation and logistical programs in Miami. Visit our "Services" page to see a list of ways we help clients.


Clients use us because we have an 'A' rating with the Better Business Bureau. We are also in the TripAdvisor Hall of Fame for getting the "Certificate of Excellence" for 7-straight years. And Miami Tour Company was awarded "Small Business of the Week" by the United States Senate for hospitality. Visit our "awards" page to see some achievements.
Why clients use us
There's no middle man to get in the way. Other travel websites will show you flashy pictures, but we're the actual tour operator driving you around.


We have hands-on experience doing charters with groups just like yours. We have the advantage of having done thousands of tours around Florida, working with the most sophisticated travel planners and companies. This means whatever you need, chances are we already have experience doing something very similar. (If you're curious about this, just ask us.)


We are the only Miami bus operator to insist that all of our vehicles be equipped with seat belts. Other operators won't give you that promise, because they have old buses in their fleet. All of our buses are 2 years old or newer, and they're also equipped with power outlets at each seat and free WiFi.


Other companies will keep your money if your trip is canceled because of bad weather. We don't. All of our clients get to enjoy some extra piece of mind with a Bad Weather Guarantee from us. If the airline or cruise cancels the trip because of a tropical or winter storm, we give you a full refund.


We are recognized authorities: We have been featured in many television shows and publications, including Travel Channel, CNBC, Rolling Stone, Fortune Magazine, and Miami Herald. We have been referenced in 4 books about Florida travel. And received an award from the United States Senate for hospitality.
United States Senator Marco Rubio, Chairman of the Senate Committee on Business Entrepreneurship, awarded us "Small Business of the Week." For further information, see the Senate press release
here
.
Our mission: Making customers happy
Our mission has never changed: we want you to enjoy a wonderful experience, in a clean, cheery bus, guided by friendly people, for a fair price.
We want our tours to make you as safe and happy as possible.
You'd think other tour companies would want the same. It turns out they don't. In fact, we are the only tour operator in Miami to insist that all of our vehicles be equipped with seat belts. It seemed obvious to us. Having seat belts in the bus make it safer for kids (And for adults too).
Watch the video below of some real testimonials from customers who have taken our tours.
Visit this page
to see more videos and discover what the tours are like.
How it started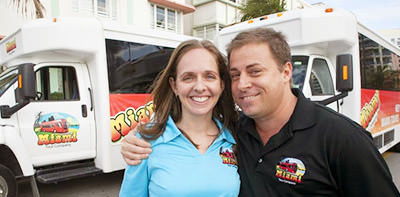 It all started with two people's desire to make visiting Miami easy
Miami Tour Company was the brainchild of Michelle and Gus Moore; two Miami Beach waiters who met and married while working at a local restaurant (
Tuscan Steak
).
Michelle says "we started out at the restaurant, it was fun, the money was good, and the hours were flexible. We worked side-by-side, serving thousands of customers, and the insights we gained about customer service were invaluable; it was the perfect training ground for running a tour company. We learned to work as a team and anticipate customer's needs. We also learned how to make tourists happy and help them to avoid some of the common pitfalls people make in Miami.
We don't just work in the service industry... We built our company with it
After working at the restaurant for 5 years, we paid off our credit cards and student loans, and saved up enough to start our own tour company. Gus and I both truly enjoyed the art of "service." So, we met some wonderful people and started a team, learned how to make a website, purchased a tour bus, and the Miami Tour Company was born.
Fast forward a few years later. Our fleet has grown, the size of our team has increased, we learned from our mistakes, and continue to strive to be the best tour company in Florida.
Our team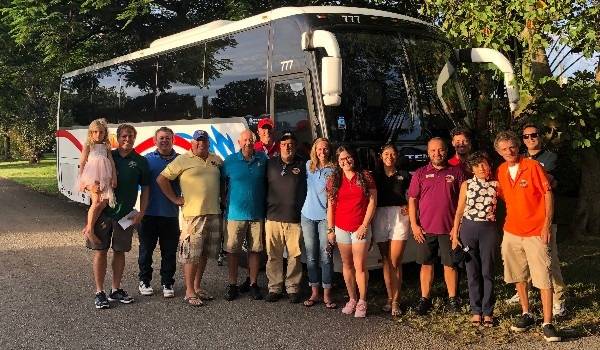 The Miami Tour Company team is located in Miami, which means you will never talk to a "call center" or answering service. When you call us, you get a local team member ready to assist you.
Our consultants speak English, Spanish, French, Portuguese, Hungarian, and Russian. We have diverse backgrounds, but
all of us share a common passion for hospitality.
Our team is different in that all of us have guided tours in Florida. This means we understand the practical issues with creating a successful itinerary. We don't come to you with suggestions, but with solid experience leading small and large groups.
Our partners
We are recommended partners of many travel platforms, including Expedia, TripAdvisor, Airbnb, TUI, Booking.com, and Royal Caribbean.
With Miami Tour Company, you don't just visit here, you make it a better place!
Miami Tour Company donates a portion of our sales to local organizations serving families in Miami and beyond. By booking tours with us, you are helping support and comfort hundreds of children with special needs in Florida.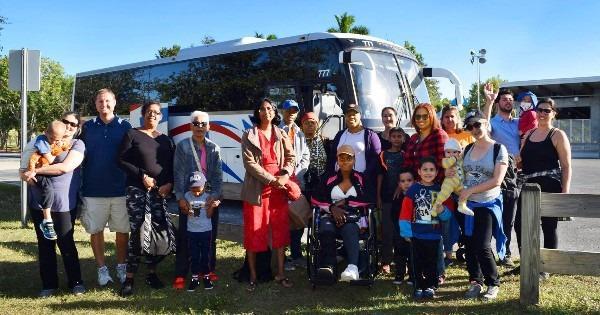 Today, every tour taken from a Miami Tour Company helps needy individuals around the State. Book a tour today and help us continue moving forward.
On behalf of
Sophia's Hope, Children of Inmates
, and the other nonprofit groups we support, we'd like to thank you—our customers and team members—for making this possible. Learn more about the
charities we support
.
---
What you should do now
1. If you are traveling alone, or with a small group
, you can save money and take a day tour with us
(not private)
. What our clients desire most is authenticity and exploring places that are off the beaten track, so that is what we aim for. 5-star reviews are fairly common.
Go here
and check availability.
2. If you would like us to be your private charter company —
to dramatically improve the safety and satisfaction of everyone in your group, then call us at
305-260-6855.
On this free phone consultation, Michelle, Monica, or Carolina will discuss your needs and suggest strategies to save time and money.
3. If you are still in the planning stage
, use our
"Planning" zone
to learn about everything from charter rates and good restaurants to travel itineraries, site inspections, and fun things to do for groups.