In business since 2002,
Miami Tour Company
is the world's leading provider of Miami tours and activities. We are family owned and operated, and believe that everything we do is to create a wonderful experience for you. We do this by making our tours fun and treating customers like friends.
We won a TripAdvisor Certificate of Excellence.

We have an 'A' rating with the Better Business Bureau.

We transport over 35,000 passengers every year.

We have served Miami for 10+ years.
About Miami Tour Company Founders, Michelle and Gus Moore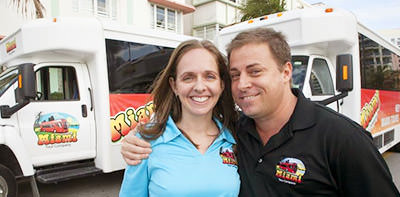 Miami Tour Company
was founded in 2002 by Gus and Michelle Moore; two Miami Beach residents who met and married while working at a local restaurant.
Michelle says "we started out waiting tables. It was fun, the money was good, and the hours were flexible. We worked side-by-side, serving thousands of customers, and the insights we learned about customer service were invaluable; it was the perfect training ground for running a tour company. We learned to work as a team and anticipate customer's needs. We also learned how to make Miami travelers happy and help them avoid some common pitfalls visitors make.
After working at the restaurant for 5 years, we paid off our credit cards and student loans, and saved up enough to start our own tour company. Gus and I both truly enjoyed the art of "service." So, we hired some
wonderful people
, learned about a
cutting-edge technology
that was revolutionizing the tour industry, bought a tour bus and
Miami Tour Company
was born."
Fast forward a few years later. Our fleet has grown, our team has increased, we learned from our mistakes, and strived to be the best tour company in Florida.
Our mission has never changed: we want you to enjoy an amazing tour experience, in a clean, cheery bus, guided by friendly people, at a reasonable price.
Here's a video of some real testimonials from customers who have taken our tours.
Today, there are a hundred ways to book a Miami vacation, but all travel companies are NOT the same. Please choose
Miami Tour Company
to plan your next trip. We promise you'll be glad you did.
MORE VIDEOS