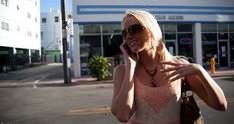 Traveling with a mobile phone is handy and practical. Whether you're using a smartphone or a conventional mobile phone, the basics for how to make calls and send SMS (which Americans call texting) are the same. If you bring your own phone, be aware that roaming charges are very expensive.
If you are going to make a lot of calls, consider purchasing a prepaid mobile phone for vacation. They cost around $35 for 30 minutes of use, and no contracts are necessary. You can buy the phones at Target and Best Buy, and even at most convenience stores like Walgreens and CVS. You can also find prepaid phones at providers like AT&T and Verizon. The most affordable way to make International calls is to use an Internet calling app like Skype. Another option is to purchase a prepaid phone card. Phone card rates can be much less than standard calling rates. When shopping for a phone card, pay attention to the rates for the country you'll be calling most. You should also look for a card that lets you review your calling history, either by phone or online. That way you can keep track of of how much you're being billed and detect any calls you did not make.
Public phones are becoming more rare, but you can still find them at the airport and inside larger hotels. They all accept credit cards, but you may want to keep some change on hand should you need to make a phone call. You can call abroad from a phone booth, but it is expensive.
Miami has its challenges. Here are 3 ways we make it easier for you to visit...
1. If you are still in the planning stage
You can easily learn the ins and outs about our city using one of these solutions:
2. If you are traveling alone, or with a small group
We have a tour company!
And there's nothing we love more than showing you around...
Go here
and check availability
(not private)
.
What our clients desire most is
authenticity
and exploring places that are off the beaten track, so that is what we aim for. 5-star reviews are fairly common.
So wherever you are in the world,
if you'd like us to be your private tour company in Miami
—to dramatically improve the safety and satisfaction of your group—call 305-260-6855.