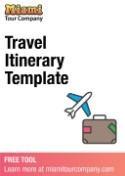 The document is here: Travel Itinerary Template
Organizing the travel details for your family or boss requires an itinerary template you can edit. Don't ask if they want one – JUST DO IT! They'll thank you for it later.
How to use the Template
This tool covers all of the travel details that may need to be included on an itinerary.
Customize the schedule
to fit your needs.
Open and save the template in Google Docs format
No doubt, having an itinerary will help you stay on schedule, but here are a few more "insider things" visitors should know about the area...
How many days in Miami do you need?
Miami has a lot of different interesting places to see.
The good thing is, most of the places are near each other, so it is possible to visit them all in one day. That being said,
we suggest visiting for at least 3 days and 2 nights,
to gain a good understanding about the city.
Miami-Dade County is actually comprised of 34 different cities
, all of which offer a different vibe and their own police force.
The places around town considered to be the most desirable to explore include:
Miami Beach, Little Havana, Wynwood, Brickell, and Coconut Grove.
Another thing that makes visiting Miami unique
- we are bordered by two National Parks -
The
Everglades
to the west and
Biscayne
to the east, which covers the shoreline, coral reefs, and marine life south to the Florida Keys.
How much does a trip to Miami cost?
Is Miami expensive?
When you combine the hotel, food, entertainment, alcohol, and transportation for two people,
$265 is the average daily price for traveling in Miami.
This might sound like a lot, but when you compare it to cities like New York ($325) or Boston ($315) Miami is less expensive.
Below is a travel budget from the
Greater Miami Convention and Visitors Bureau
:
Hotel - $175
Meals - $65
Alcohol - $25
Entertainment - $75
Local Transportation - $25
How to get around Miami
One of the most challenging things visitors and residents must overcome is traffic. Miami is often rated one of the worst cities to drive in the United States.
Thankfully, the city has a few different transportation options to make getting around easier:
If you are not in a hurry, the metro bus offers over 100 different routes, so you can get to anywhere in the city, as long as you are willing to do a little walking, once you've reached your stop. The city bus takes about 25 minutes to reach Bayside Marketplace in Downtown from Lincoln Road in Miami Beach. Regular bus fare is $2.25.


Miami also offer a very convenient elevated Metrorail and metro mover train system that make it easier not to have a car, as long as you live near a metro station. Mention the amount of stops and where the train takes from and to


Traffic can be so bad at times that residents will leave their cars at home and catch an Uber or Lyft in order to reach their destination faster. Ubers and Lyfts are available 24/7 and come at a relatively cheap price. Not having to waste time on finding and paying for parking is extremely time efficient and Uber will drop you off in right in front of your destination.


Miami Beach, Coral Gables, and Homestead all have a free trolley bus around the neighborhood. The trolleys also make it easier to connect to the metro bus stations.


There is another FREE way to get around Downtown and the Beach called the "Freebee" - it's an electric golf cart transportation service that is good for the environment. The service is free for riders, just download the app and schedule a ride. Drivers earn tips, and the company chargers to advertise on the cart.


Are you the adventurous type? For people in Downtown, renting an electric scooter is an alternative to walking or Ubering around. On average, it costs 15 cents per minute and 1 dollar to unlock. Note: electric scooters are not allowed in Miami Beach.
Do you need a car in Miami?
The short answer is no.
The flat rate for a taxi from Miami Airport to Miami Beach is $32.
Since most visitors end up staying in Miami Beach, they should know the area is walkable and you do not need a rental car. Moreover, having to park a car is a costly and inconvenient.
The same can be said if you are staying in most parts of Downtown, Brickell, Coconut Grove, and South Beach - there are many public parks, places to eat, and things to see in the area. Renting a car is not necessary (unless you want to go to Orlando or Key West).
Taxis and Uber can get you from place to place
A ride from South Beach to Bayside, or Downtown to Wynwood should cost less than $20.
While it is not perfect,
Miami-Dade County
also has a public bus system, along with the Metromover: an elevated train that runs between Downtown and Brickell
- which is FREE to ride.
So it might sound crazy, visiting a big city and
not
needing a car, but it's true, especially if you are staying in Miami Beach or Downtown, where most everything is walkable.
To some, owning a car can be an inconvenience, because of the aggressive drivers and difficult parking the city is known for. Why bother with that when you can order a ride on your phone with
Uber or Lyft.
Soon enough, there will be fleets of
Tesla and Google
driver-less taxis in Miami, silently cruising the streets like robots, ready to pick you up and take you on an adventure.
How we can help you plan the trip (before robot tour guides take over)
1. If your plan is to hire a private transportation company
We own and operate a luxury fleet of buses and vans, which allows us to extend the highest quality service and lowest prices to our clients. To discover how we can help you to plan your trip:
2. If your plan is to do a shared tour with a local company
Come join us!
Our
ready-to-go sightseeing tours
have everything you need for a great day of fun—free bottled water, illustrated maps, luggage storage, WiFi, and a phone charger at your seat. Buy tickets... Meet your guide... and away you go.
You'll meet nice people and enjoy good stories, music, a little exercise, and breathtaking scenery. 5-star reviews are fairly common.
3. If you are still in the planning stage
From our
"Planning" zone
you'll learn about everything from private charter rates and good restaurants, to travel itineraries, and things groups should know.