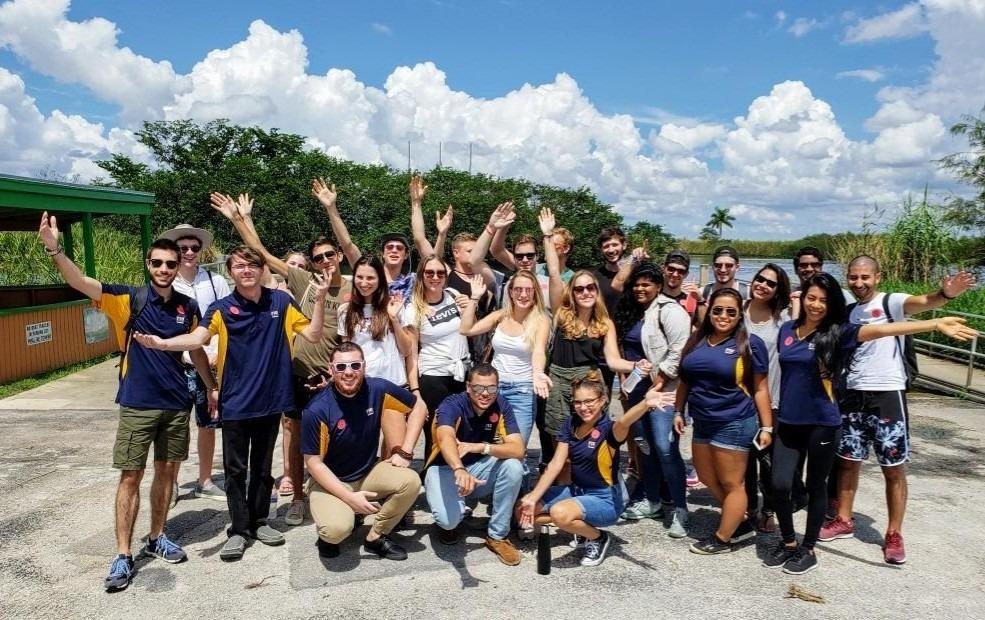 Thrill your team with fun activities
designed to build trust and teamwork.
Call Miami Tour Company for a free quote 305-260-6855.
A list of team building activities that create confidence, bonding, and good memories
Evening functions— Don't be forced to stand in line, or get turned away by a rude doorman. We'll make sure everyone in your group is treated like VIP. From trendy nightclubs and restaurants to sporting events, live music, and night tours around town, Miami has an array of exciting things to do at after dark.


Scavenger Hunt — This activity blends sightseeing and problem solving. Riddles are hidden along the tour route, and it's up to your team to solve them, while enjoying the great sites in Miami. Small teams compete to score the most points by finding answers. What makes this activity so fun is the riddles given to each team require participants to challenge their assumptions and typical ways of thinking, but also uses shared knowledge of trivia and observation to generate the answer. At the end of the day, all teams reconvene to share photos and discuss the problems they had to overcome that can be applied back at the workplace.


Team Sailing — This activity provides an ideal environment to learn leadership skills and cooperation in a beautiful setting along Miami's coastline. Crewing a sailboat mirrors these skills. It is a complex environment with many tasks. Every role is important and valuable to the the success of the sailing team. Each member must continually report their actions to the captain, as well as review the actions of others—every member of the team is responsible for holding each other accountable.


Team Go Kart Racing — The thrill of racing has a real effect on people and fosters communication and camaraderie among colleagues. During the races, employees will be communicating with each other about lap times, braking zones, the correct driving line, and of course thrills of going fast. And in doing so, your team will also be building relationships they will then take with them back into the office.


Trampoline Dodgeball — Event planners looking for a high-energy team building activity have an exciting option with a trampoline dodgeball game. The indoor trampoline park near Miami Airport has 10,000 square feet of wall-to-wall trampolines and offers meeting rooms and organized dodgeball games. This is the type of event your team will remember for a long time. And of course, you'll have a lot of fun doing it and learn more than you expected!


Ropes Course — The combination of low and high ropes course challenges enable participants to grow at both the team and individual levels, exploring risk, leadership, communication, problem-solving, and coaching. The low ropes course focuses on collaboration and presents opportunities for self-discovery and team growth. The high ropes course emphasizes risk-taking, trust, and coaching. Ropes courses are fun, exciting and teach valuable life long skills. They build self-esteem and confidence by helping people find there inner strengths and full abilities.


Firearm Training — Increased self confidence, focused team direction, enhanced communication - these are all skills your group will learn in firearm training. At Miami's only machine gun firing range, your group can experience over 25 different types of semi and fully automatic firearms, under the direct supervision of trained law enforcement personnel. The VIP Room includes six shooting lanes, a private entrance, flat screen TVs and a private restroom. One thing's certain, the personal training and confidence your group receives will surpass anything they have ever experienced.


Golf Outing — From tee times to full-service golf tournaments, we manage transportation, negotiate green fees, arrange food and beverage, provide golf amenities, and make contingency plans.


---
What you should do now
1. If you'd like us to help you organize a team building event —
to dramatically improve the safety and satisfaction for everyone in your group, then call us at
305-260-6855.
On this free phone consultation, Michelle, Monica, or Carolina will discuss your needs and suggest strategies to save money.
2. When you're ready to book
, all we require is a 25% deposit to save the date and time. The remainder is due 7 days before the charter takes place.
3. If you are traveling alone, or with a small group
, you can save money and take a day tour with us
(not private)
.
Go here
and view the options.
4. If you are still in the planning stage
, use our
"Planning" zone
to learn about everything from charter rates and good restaurants to travel itineraries, site inspections, and fun things to do for groups.