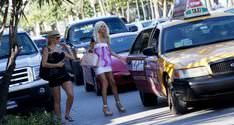 Most taxi drivers in Miami are from Haiti and speak French.
When you arrive at the Airport, you will find taxi service on the lower level just outside of Baggage Claim. Uniformed taxi captains will assist you to hail a taxi.
Generally speaking, Miami taxis run at metered rates. The meter should always display the fare you are being asked to pay.
There are also flat rates that apply for fares in a number of regions. For example:
The rate from Miami Airport to Port of Miami is $21
The rate from Miami Airport to Miami Beach is $32
The rate from Miami Airport to Key Biscayne is $36
The rate from Miami Airport to Aventura is $46
Public Transportation
Miami Metrobus travel planning assistance can be reached at 305-891-3131. Be aware, Miami's public transportation system is not as developed as it is in many cities. For example, it is difficult to travel between Miami and Fort Lauderdale using public transportation. There are also no underground trains in Miami, due to the high waterline. That being said, the Airport Flyer "Route 150" is an express bus between Miami Airport and Miami Beach that cost $2.35. There is also a free electric shuttle that will take you anywhere you need to go in Miami Beach. To arrange pick-up call (305) 409-6636.
Miami has its challenges. Here are 3 ways we make it easier for you to visit...
1. If you are still in the planning stage
You can easily learn the ins and outs about our city using one of these solutions:
2. If you are traveling alone, or with a small group
We have a tour company!
And there's nothing we love more than showing you around...
Go here
and check availability
(not private)
.
What our clients desire most is
authenticity
and exploring places that are off the beaten track, so that is what we aim for. 5-star reviews are fairly common.
So wherever you are in the world,
if you'd like us to be your private tour company in Miami
—to dramatically improve the safety and satisfaction of your group—call 305-260-6855.