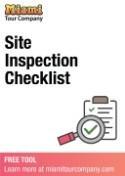 The document is here: Site Inspection Checklist
Doing a hotel site inspection is an important part of any event. Use our checklist to help select the right venue for your needs.
How to use the Checklist:
Print the guide, so you will remember all of the important items to discuss as you're touring the site. When you arrive on property, follow the checklist and review each department: step-by-step.
Open and save the checklist in Google Docs format
How we can help you plan the trip
1. If your plan is to hire a private transportation company
We own and operate a luxury fleet of buses and vans, which allows us to extend the highest quality service and lowest prices to our clients. To discover how we can help you to plan your trip:
2. If your plan is to do a shared tour with a local company
Come join us!
Our
ready-to-go sightseeing tours
have everything you need for a great day of fun—free bottled water, illustrated maps, luggage storage, WiFi, and a phone charger at your seat. Buy tickets... Meet your guide... and away you go.
You'll meet nice people and enjoy good stories, music, a little exercise, and breathtaking scenery. 5-star reviews are fairly common.
3. If you are still in the planning stage
From our
"Planning" zone
you'll learn about everything from private charter rates and good restaurants, to travel itineraries, and things groups should know.