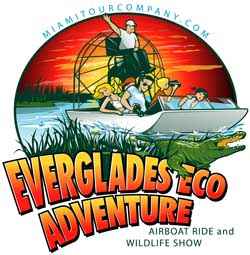 For guests taking the Everglades Eco Adventure, here are 29 interesting places you'll see on tour:
Downtown Miami, cultural, financial, and commercial center of South Florida

Bayside Marketplace, an outdoor entertainment venue, dining area, and shopping mall

Torch of Friendship monument, dedicated in memory of president John F. Kennedy.

Port of Miami passenger and cargo entrance

American Airlines Arena, home of the Miami Heat basketball team

Bayfront and Bicentennial parks, home of the Challenger Memorial, host to many large-scale concerts and events

Freedom Tower, one of six places in Miami on the National Register of Historic Places

Entrance to Camillus House homeless shelter

The 4 Queens - Marquis, Ten Museum Park, 900 Biscayne Bay, and the Marina Blue super-high-rise condo buildings

Club Space, Miami's only nightclub open 24 hours, parties every Saturday night through all day Sunday

Goldrush gentleman's strip club

Nap of the Americas building, the internet data hub to Latin America

Jackson Memorial Hospital, located in the Medical District that includes the VA Medical Center, University of Miami Hospital and School of Medicine

Miami Ballpark, home of the Miami Marlin's baseball team

Miami River and canals

Best view of Miami International Airport

Burger King headquarters, home of the Whopper

Royal Caribbean Cruise Lines headquarters

City of Doral

Urban Boundary Line, a Miami boundary, set to control urban sprawl

Tamiami Trail, famous highway, stretching across Florida, from Tampa to Miami

Dead forest of Mellauca trees

Miccosukke Indian Reservation and Casino

Site where the last alligator fatality took place

Everglades Correctional Institution

Everglades National Park

Tamiami Trail Bridge, Everglades restoration project, 6 mile elevated highway, under construction

River of Grass

Gator Park airboat ride and wildlife show (these two are so much fun they count for at least another 10 or 20 things).
NOTE: Some of these places are not always mentioned. If there is something you want to see, make sure to ask your guide, before the tour begins.
Learn more about it at miamitourcompany.com: