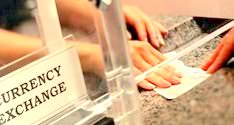 The financial industry hides the fact that you lose money each time you change it. On average, at a bank you lose 8 percent when you change euros to dollars. When you use currency exchange booths at the airport, you lose around 15 percent. If you must change cash in United States, banks usually have the best rate. Before you travel, get some U.S. dollars from your bank, and ask them which banks in the United States offer the lowest fees.
You won't have trouble finding an ATM in Miami, but be aware, there are high fees to retrieve money. There is an ATM usage fee, plus a currency exchange fee.
Also note, the ATMs inside shops, bars, and gas stations charge the highest fees.
Miami has its challenges. Here are 3 ways we make it easier for you to visit...
1. If you are still in the planning stage
You can easily learn the ins and outs about our city using one of these solutions:
2. If you are traveling alone, or with a small group
We have a tour company!
And there's nothing we love more than showing you around...
Go here
and check availability
(not private)
.
What our clients desire most is
authenticity
and exploring places that are off the beaten track, so that is what we aim for. 5-star reviews are fairly common.
So wherever you are in the world,
if you'd like us to be your private tour company in Miami
—to dramatically improve the safety and satisfaction of your group—call 305-260-6855.