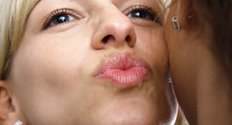 Cheek kissing is not very common in the United States. However, that is not the case in Miami, because of the large amount of Latins and Europeans here. Therefore, cheek kissing is considered appropriate among friends and acquaintances: a man and a woman and two women, but cheek kissing is not very common among two men.
It is not necessary to know a person well to kiss them on the cheek. In fact, when most people in Miami are introduced to someone new, they usually greet them with a cheek kiss. The number of kisses given is usually just one.
Miami has its challenges. Here are 3 ways we make it easier for you to visit...
1. If you are still in the planning stage
You can easily learn the ins and outs about the city using one of these solutions:
2. If you are traveling alone, or with a small group
We have a tour company!
And there's nothing we love more than showing you around...
Go here
and check availability
(not private)
.
What our clients desire most is
authenticity
and exploring places that are off the beaten track, so that is what we aim for. 5-star reviews are fairly common.
So wherever you are in the world,
if you'd like us to be your private tour company in Miami
—to dramatically improve the safety and satisfaction of your group—call 305-260-6855.