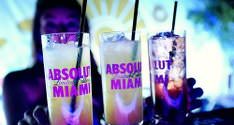 United States has strict laws regarding drinking alcoholic beverages. It is against the law for anyone under 21 years of age to drink beer, wine, or any type of alcohol, not even with an adult, or in the privacy of your home. There is no exception to this law, regardless of your nationality.
The hours that alcohol can be sold vary by city and state. Most cities stop serving alcohol at 2am. However, in Miami Beach, bars close at 5am, and there is even a section of Downtown Miami that is allowed to sell alcohol 24 hours a day. That said, drinking alcohol is not allowed on the beach, or on public streets.
Miami has its challenges. Here are 3 ways we make it easier for you to visit...

1. If you are still in the planning stage
You can easily learn the ins and outs about our fine city using one of these solutions:
2. If you are traveling alone, or with a small group
We have a tour company!
And there's nothing we love more than showing you around...
Go here
and check availability
(not private)
.
What our clients desire most is
authenticity
and exploring places that are off the beaten track, so we try to do that. 5-star reviews are fairly common.
So wherever you are in the world,
if you'd like us to be your private tour company
—to dramatically improve the safety and satisfaction of your group—call 305-260-6855.