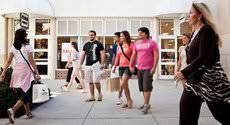 One aspect of shopping in the United States that often confuses visitors from other countries is the sales tax.
In Europe, a Value-Added Tax (VAT) is included in the price of everything sold. In the United States, it's different in most cases. For example, Miami adds a 7% "sales tax" on purchased items that is not marked on the label or menu.
The tax will be added to the price at the cash register or added on the bill. Alcohol, cigarettes, medicines, restaurant meals, clothing, electronics, jewelry, and many other items, except gasoline, can have a tax tacked on to it at the end.
That being said, Miami is known for fabulous shopping. Below are the most popular places to splurge, save a few dollars, or just window shop:
Food:
Publix is the largest grocery store chain in Florida. Drug stores also sell food and alcohol. You can also find small Cuban markets in Miami with food and vegetables for sale. If you are staying in a hotel, we suggest doing some food shopping to avoid the high cost of food and drinks at the hotel.
Sawgrass Mills:
Famous for it's factory outlet stores, this mall offers great bargains and dining opportunities. It's located in Broward County, 30 minutes north of Miami.
Dolphin Mall:
The Dolphin Mall, located just west of Miami Airport, offers shoppers over 200 restaurants and stores.
Aventura Mall:
This is the largest shopping mall in Miami. The main department stores include: Bloomingdale's, Nordstrom and Macy's. The mall also has over 300 specialty stores, including Louis Vuitton, Abercrombie & Fitch, Apple, and Diesel.
Bal Harbour Shops:
For high-class shopping, few places compare to Bal Harbour Shops. Stores include Tiffany, Prada, Saks Fifth Avenue and Neiman Marcus.
Lincoln Road:
Full of stores, boutiques, art galleries, and restaurants, this open-air pedestrian mall in Miami Beach is a fun place to shop and people watch. The mall also offers a farmer's market on Sundays.
Electronics:
Visit a Best Buy store for low priced electronics, computers, mobile phones, video games, and more. There is a Best Buy store located in Miami Beach on 5th St. and Alton Rd.
Most malls and stores open at open at 10:00 AM and close at 9:00 PM. Drug stores and food stores may close later, or even be open 24 hours a day. Just about all shops are open on Sunday. When you buy something, remember to keep the receipt, you will need it if you want to return your purchase. Large stores usually offer a 30-day return policy.
Miami has its challenges. Here are 3 ways we make it easier for you to visit...
1. If you are still in the planning stage
You can easily learn the ins and outs about our city using one of these solutions:
2. If you are traveling alone, or with a small group
We have a tour company!
And there's nothing we love more than showing you around...
Go here
and check availability
(not private)
.
What our clients desire most is
authenticity
and exploring places that are off the beaten track, so that is what we aim for. 5-star reviews are fairly common.
So wherever you are in the world,
if you'd like us to be your private tour company in Miami
—to dramatically improve the safety and satisfaction of your group—call 305-260-6855.