Solo Travelers, Say Hello To Savings
Traveling solo doesn't mean traveling alone – with Miami Tour Company, it means camaraderie and meeting like-minded people who share similar interests. We offer singles another reason to choose us – a special Solo Traveler Discount.


Choose from 11 tours below:
View by:
How to redeem solo discount online
Click the coupon code button above. Then, select a tour and fill out the form. The discount will be deducted at checkout. All singles are eligible.


Watch this video to see your beautiful bus


The environmentally friendly clean air vehicle is powered by low emission biodiesel.


About Miami Tour Company
In business since 2002, Miami Tour Company is the world's leading provider of Florida tours and transportation. We are family owned and operated, and believe that everything we do is to create a wonderful experience for you. We do this by making our tours fun and treating customers like friends.


We won a TripAdvisor Certificate of Excellence.

We have an 'A+' rating with the Better Business Bureau.

We transport over 35,000 passengers every year.

We own new buses
Meet the Owners, Michelle and Gus Moore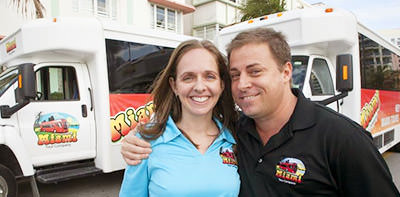 Miami Tour Company was founded by Michelle and Gus Moore; two local residents who met and married while working at a Miami steak house.

Michelle says "We got our start waiting tables. It was fun, the money was good, and the hours were flexible. We worked side-by-side, and the insights we learned were invaluable; it was the perfect training ground for running a tour company."

Choose us to be your local area travel agent.

We know Miami better than anyone.


Watch a video of some real testimonials from customers who have taken our tours