Planning A Shark Valley Tour Just Got A Lot Easier
Travel in a new bus with seat belts
Department of Transportation certified
Official Tour Operator at Port Miami
Better than generic cruise ship tours
Miami Tour Company is staffed by all-around kind people. We've earned the trust of some of the most demanding event planners and travel agents around the world, with our
safe driving and logistics.
No plan or group manifest is too complex.
To request pricing, fill out the form or call (305) 260-6855.
We provide transportation for all occasions:
Airport & cruise ship transfers
Bachelor & bachelorette parties
Business conventions
Church groups
Chartered sightseeing
Educational tours
Family reunions
Field trips
Grad night
School functions
Scavenger hunts
Shopping mall trips
Sports events
Wedding parties
Bus features:
Safe driver who speaks English
Low doorway for easy entry
3-point harness seat-belts
Secure luggage compartment

Personal power outlets

Blue mood lighting
Air-conditioning vents
Big windows for sightseeing
Cool and quiet cabin
Protection from rain & sun
Clean and odor-free
Audio tour with music
Choose the best type vehicle for your needs
14 Passenger Mercedes Van

5 Passenger SUV
Our service area
We can drive you anywhere in Florida, but we specialize around Miami, Fort Lauderdale, Everglades, Orlando, the Keys & Key West.

MIAMI TOUR COMPANY™ is licensed at all airports & cruise ports.

When you fill out the form, it allows you to choose multiple dates and locations - this makes it easy to customize your trip!


Fully licensed & insured
MIAMI TOUR COMPANY maintains passenger liability coverage through National Specialty Insurance. Each vehicle is fully insured.

We are licensed by Florida Department of Transportation (DOT: 1787989FL)

Certified to operate by the following regulatory bodies: MIA (Miami Airport), FLL (Fort Lauderdale Airport) Port Miami, Port Everglades.
Travel first class in a new coach bus
The bus has USB power outlets below each seat, big windows, mood lighting, and a cool, quiet cabin that protects you from rain & sun. Your environmentally friendly clean air vehicle is powered by low emission biodiesel.
Customers love us because...
Attention cruise ship passengers
It's easy to take a tour with us, before or after your cruise.
We GUARANTEE you won't miss your boat or flight
If your cruise is late or canceled, you get a full refund
Your luggage is stored safely on the bus
Port Miami Official Tour Operator
Certified by Department of Transportation & Safety
Higher quality than generic cruise ship tours
What happens after you send the form
You'll get a proposal from us in about 3 hours.

To get started, click the button below and one of our team members will get back to you shortly!


What's so great about MIAMI TOUR COMPANY?
About MIAMI TOUR COMPANY™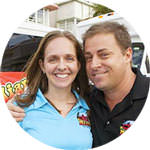 Operated by Michelle & Gus Moore
Started July 2008
A+
Rating by Better Business Bureau
Michelle & Gus Moore have worked in hospitality their entire professional lives. Their experience ranges from managing the MIAMI TOUR COMPANY Team to planning corporate events for Microsoft and Gap. They've also been featured as a Small Business Success Story at Google.

They love the outdoors, hot yoga, raising their daughter, and exploring new places with friends.

Any questions, contact us; we are quick to reply.
2018 HALL of FAME

SEVEN-TIME WINNER OF
CERTIFICATE of EXCELLENCE
2012 - 2013 - 2014 - 2015 - 2016 - 2017 - 2018

Consistently great feedback from 849 reviews.
Customer reviews
4 reviews about this tour
Latest reviews
See all
Customer questions and answers
Will you customize the tour for us?
What are the lunch options?
Is it ever too early or too late to contact you?
How much is the cost - What will I REALLY end up paying?
What kind of vehicles are available?
What size groups can you accommodate?
How much luggage can I bring?
Do buses have power outlets?
Are there restroom onboard?
Are food and beverages allowed the bus?
Where do you have authority to travel?
Can you help me find a hotel?