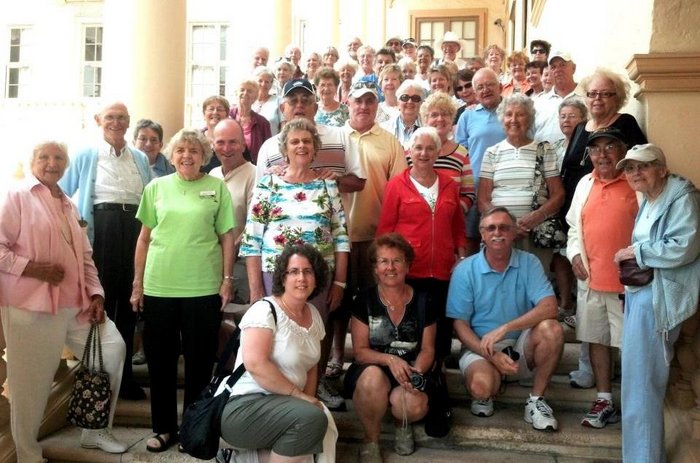 Are you retired and want to stay more active? Want to meet other people who hold similar interests? Come join
Miami Tour Company
for an amazing day of fun! Our private sightseeing tours, created specially for retirement communities are the perfect activity for a hassle free and affordable getaway. Seniors can skip the burden of driving and planning a trip and let us do everything for you. All you have to do is relax and enjoy the adventure.
The pace of our activities is designed with seniors in mind. You can do as much, or as little walking as you like.
Walking tours are available for those who prefer more active outings.
Professional, English-speaking tour guides and equipment for the hearing impaired are other advantages of our tours.
Everything is included:
Clubhouse pick-up from your community in South Florida
Fully guided sightseeing tour
Lunch at a nice restaurant
Bottled water, beer and wine on the bus
Admission tickets
No added surcharges for fuel, tolls or parking
Contact Us For a Free Consultation
Our tours just for seniors are totally customizable:
The Original Miami Sightseeing Tour
Price:
$89 per person, with an 20-person minimum
Duration:
Maximum 8 hours
Details:
Put walking in the hot sun to rest for a few hours, and see Miami's sights in comfort. Explore the city on a fun and interactive bus tour, extending over thirty miles, with iconic monuments and famous sights along the way. Guides share local knowledge and fun facts throughout the trip. This tour is an absolute must for Miami visitors. You'll enjoy a mixture of live and recorded commentary, music, and scenery. Upon completion, you'll have a great understanding of the area.
Miami Art and Architecture Expedition
Price:
$89 per person, with an 20-person minimum.
Duration:
Maximum 8 hours
Details:
Discover Miami's creative side as you head around the city on this lively guided tour exploring architecture and street art. From the Mediterranean Revival mansions in Coral Gables and the Art Deco construction in Miami Beach to the modern skyscrapers in Brickell and the colorful graffiti art in Wynood, Miami is home to some of the world's most beautiful architecture and street art. Led by state certified historians on the subject, you'll learn more than just names and dates, but also the stories behind the facades of these iconic structures. Your tour begins in Miami Beach, traverses through Wynwood, and ends in Coral Gables, stopping at several art and architectural landmarks along the way.
Everglades Safari Adventure
Price:
$99 per person, with an 20-person minimum.
Duration:
Maximum 8 hours
Details:
Certified airboat captains navigate the wetlands, speeding through waterways and stopping to point out the wildlife. Visitors may see alligators, turtles, and exotic birds as you explore the sawgrass marshes. This family-friendly tour is perfect for those seeking a little adventure on their vacation; high speeds and tight turns combine the rush of an amusement park ride with the thrill of a safari. After the airboat tour, you'll watch a wildlife show, where you can meet and greet and exotic species – from gators and snakes to raccoons and panthers. This family-friendly adventure blends education, beauty, and safe thrills, earning glowing reviews from guests.
Key West and the Florida Keys Day Trip
Price:
$119 per person, with an 20-person minimum
Duration:
Maximum 14 hours
Details:
A Florida vacation is not complete without visiting Key West, and there is no better way than on this day trip from Miami. Get ready to see some of the most spectacular scenery in the State. To get there, you will literally be driving over the ocean and across a thin chain of islands and bridges, including the historic Seven Mile Bridge. We will stop at some interesting places along the way. Once in Key West, you'll have as much time as you like to explore the island. You can immerse yourself in history at a variety of museums and landmarks. Or, immerse yourself in the clear blue water offshore: on a glass bottom boat ride or a sunset sailing trip. You'll be buzzing with memories on the ride home.