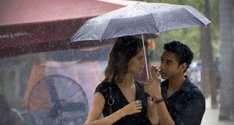 With January averaging 72 °F (22 °C),winter in Miami has mild to warm temperatures. Summer highs generally range between 76 and 89 °F (25–32°C).

The rainy season begins in June, and ends in mid-October. During this period, temperatures are 84 and 95 °F (29–35 °C),with high humidity, though the heat is often relieved by afternoon thunderstorms and a sea breeze. Much of the year's 56 inch (1,420 mm) rainfall occurs during this period, with the rainiest months being August and September.

The Hurricane season runs from June 1 through November 30. The most likely time for Miami to be hit is mid-August through the end of September.
You may also want to know:

Learn more about it at miamitourcompany.com: