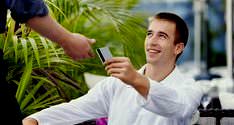 In the United States, day-to-day spending is largely credit card-based. So when you're in Miami, plan to rely mostly on credit cards. Credit cards from any country work throughout Miami (at hotels, shops, restaurants, car-rental agencies, tour companies and so on); Visa, MasterCard, and American Express are the most widely accepted.

Helpful Tip: To avoid any hassles, before you travel, contact your credit card company and let them know when and where you will be using your credit card on vacation.

Although most places in United States accept credit cards, there are places where cash is needed. If you rent a car, toll roads accept cash only. Many parking lots only accept cash. Although most taxis accept credit cards, cash is still the accepted method of payment. Beach chair rentals, farmer's markets, and public transportation is cash only. Tips are also appreciated in cash.
You may also want to know:

Learn more about it at miamitourcompany.com: