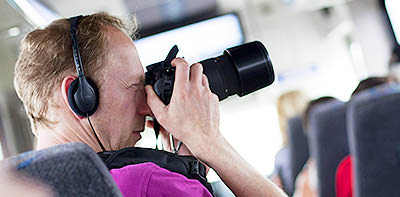 Passengers who don't speak English will have no problem with
Miami Tour Company
. Our pre-recorded English tour of Miami and the Everglades has been professionally translated in 7 languages.
The English tour is broadcast on the bus from a high performance sound system. Headphones are provided to passengers who wish to hear the tour in another language. For a more personal experience, you may bring your own headphones.
The Most Advanced Multilingual Tour System in the World
Although the driver speaks English, we have invested in the most advanced tour technology available, which allows our multilingual passengers to enjoy a truly entertaining experience. With the help of 9 orbiting satellites, the GPS-guided system triggers our pre-recorded tour precisely at the right place. Along the route, the tour commentary is preceded by flashing seat-back controllers that prompt you. The controllers also allow you to adjust the volume. This means every story is told beautifully. And you'll be amazed by the digital sound quality.
And if that's not enough,
Miami Tour Company
also gives each passenger a tour map that has instructions and information about each stop in their preferred language.
Available languages: English, Spanish, Portuguese, French, Italian, German, Russian, Mandarin.
Learn more at MIAMITOURCOMPANY.COM: