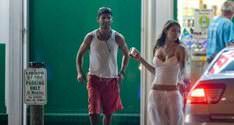 Miami Airport has a bad reputation for baggage theft. Do not pack valuables in bags you plan to check at the airport. Your bags will pass through many unsupervised hands. Keep your camera, computer, jewelry, money, medications, and important documents in a carry-on bag.

Miami Beach, Brickell, Coral Gables, and Coconut Grove are safe neighborhoods. Nevertheless, bad things can happen anywhere. When you are on vacation stay alert and use caution with whom you give your trust. When exploring the city, don't look vulnerable. Walk with a purpose and be aware to what is happening around you.

You should also avoid walking on the beach after dark. It's not that it's very dangerous, but why put yourself in a vulnerable situation. And if you need to walk late at night, choose to walk a busy street.

If you visit a nightclub, it's easy to let your guard down when it's late and you've had a few drinks. But be aware that crime and theft does take place. Also, if you pay for drinks with a credit card, read your bill and make sure they are not charging you for items you did not purchase.
You may also want to know:

Learn more about it at miamitourcompany.com: