— updated May, 2022
Use our average charter rates to build your budget:
| Type | Per Hour | Per Day** |
| --- | --- | --- |
| 56 Passenger Motor Coach | $159 | $1,900 |
| 40 Passenger Minibus | $138 | $1,625 |
| 14 Passenger Mercedes Van | $99 | $1,175 |
| Boat / Yacht | $995 for 2 hrs | |
** Day rate includes up to 12 hours of service.
What you should do now
1. We have already escorted a group much like yours.
So wherever you are in the world,
if you'd like us to be your charter company
—to dramatically improve the safety and satisfaction of your group—call 305-260-6855.
2. We'll analyze your event
and discuss strategies to save money and time. When you're ready to book, all we require is a 25% deposit to save the date. The remainder is due 7 days before the charter takes place.
3. If you're traveling alone, or with a small group
, you may want to take a day tour
(not private)
, then
go here
and view the options.
4. If you'd like to learn about some of the different types of charters we've done before
, continue reading.
Charters we've done for our clients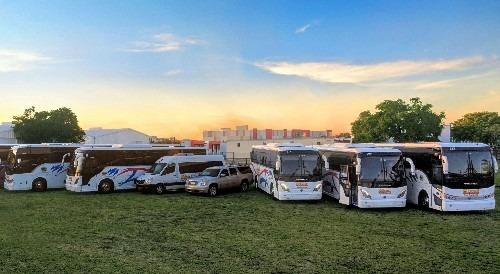 Example #1 —
Sports Team Transportation
Last summer, a girls softball team from Coral Gables requested a bus rental to the playoffs in Palm Beach. With 19 players, 3 coaches, and an extensive amount of luggage to bring to the game, the team selected our luxury minibus rental with a seating capacity of 40 passengers.
Final cost for 12 hours of transportation including gratuity: $1,625 and they tipped the driver $150 at the end of the trip.
---
Example #2 —
Destination Management
For the
Oriflame Cosmetics 50th Anniversary Jubilee
, we were contracted by the event planner to arrange site inspections, a City Tour (in 17 languages), off-site meals, and activities for 1,200 attendees.
The conference organizer selected Miami Tour Company because we are also a bus operator, and could provide them with a low price, along with event staffing, and therefore not having to pay a "middle-man."
Final cost for 5-days of transportation and event staff: $52,615
---
Example #3 —
Family Reunion
The family matriarch contacted us to help organize their yearly family reunion for 38 guests. We offered her a few different ideas and put together a fun tour itinerary for the kids and adults in a 56 passenger coach bus. The custom tour took them all around Miami and Little Havana for lunch.
The family organizer received a quote for $1,195 and tipped the tour guide and driver $50 each.
Final cost for 5 hour service including gratuity: $1,295
---
Example #4 —
Wedding Shuttle
A local groom-to-be called Miami Tour Company to book transportation for he and his bride's rehearsal dinner. Because some of their wedding guests were flying in for the celebration, he also needed to rent a shuttle to transport their friends from the hotel to the wedding venue at the Deering Estate. Two motor coaches took everyone to both events
The groom received a quote for $3,800 and tipped the drivers $50 each at the end of the service.
Final cost for 2-days of transportation including gratuity: $4,000
---
Whether it's your first time planning an event or you're a travel pro, one thing never changes: You want the occasion to run smoothly. That's what we want, too.
Call and tell us what you need
(305) 260-6855
Our live agents are available 8am to 6pm.