🚌 Chartering a bus to 🎢 Universal Studios just got easy — call us now for a free quote (305) 260-6855
Travel in a new, clean, luxurious bus
Charge your phone at your seat
Ensure everyone stays on schedule
Take advantage of our Bad Weather Guarantee
[TRIP LENGTH: 2-DAYS]Experience Universal Studios; the itinerary can be customized to fit your time frame and budget.Miami Tour Company
is the #1 operator at
TripAdvisor
for guiding private tours in the area.
Our cruise ship clients especially like our service,
because we can store their luggage on the bus, and the airport transportation is included.
Miami Tour Company's vision is to take you to places in Florida most people do not get to see.
Customers appreciate the extra perks they get with us like
free Wi-Fi
in the bus,
power outlets
at each seat, and
cold bottled water
.
We are proud to be approved by
Miami-Dade Public Schools
.
The buses are equipped with 3-point harness
safety belts for every passenger.
We've earned the trust of some of the most demanding travel planners around the world, with
our safe driving and efficiency.
Another reason people choose us is because
we own the buses,
which means
you save money
— with no middleman in the way.
Here's how it works
A quick guide to booking a charter with Miami Tour Company
1
Contact us
to reserve a bus now...
2
We arrive early
to make sure everything runs smoothly...
3
Get to your destination
on-time...
4
Feel the love from your group
for planning a great trip... It's as easy as that!
Private charters for all occasions
Church groups
Corporate charters
Educational tours
Family reunions
Field trips
Photography and film crews
Science clubs
School functions
Sports teams
Add a day and visit Disney or 2 days and go to the Space Center
More places we go:
Kennedy Space Center
Islands of Adventure
The World of Harry Potter
Holyland
Legoland
Rainbow Springs
Peace River
Westgate River Ranch
Crystal River
St. Augustine
Florida Keys
Dry Tortugas
Magic Kingdom
Epcot
Animal Kingdom
Disney Studios
Disney World
Bus features
Low doorway for easy entry
3-point harness seat-belts
Secure luggage compartment
Free WiFi

Power outlets

Sound system with microphone
Blue mood lighting
Air-conditioning vents
Big windows for sightseeing
Audio tour with music
Cool and quiet cabin
Super-clean and odor-free
Child car seat on request
Protection from rain and sun
Eco-friendly, clean air bus
See the fleet
Choose the best of type vehicle for your needs:





14 Passenger Van




5 Passenger SUV
Our service area
If you're going anywhere in Florida - we can take you there!
Our expertise is taking groups to
Universal Studios
from Miami. Once there, we'll explain your meal options and itinerary.
Our vehicles are the safest and most luxurious way to travel around town
, which is why we are highly regarded by
both corporations and small groups
.
Our team is staffed by smart and kind people. No plan is too complex. We have over
ten years
of experience doing private charters
just like yours
.
To request pricing, call (305) 260-6855.
Read more about the charter
— including things we offer the other companies don't.
Your bus is equipped with seat-belts, power outlets, blue mood lighting, and Wi-Fi.


You can bring your own music and be the DJ.


The on-board microphone makes it easy to communicate with your group while you're traveling.


We provide families with car seats for children 5 to 80 pounds. There is no extra charge, but you must notify us in advance.


Bring your own food and picnic inside the park. Food and beverages in small, soft-sided coolers are permitted.


Have fun socializing, while one of our state-certified coach operators handles the driving.


Get a Bad Weather Guarantee to protect you from unexpected changes.
Hurry! Our bus rentals are first-come, first-served, so book the charter while it's still fresh in your mind.
Call (305) 260-6855
What happens after you contact us
Right away, we will send you a proposal with the price and no hidden fees.

Find out why people ❤︎ us.

Looking for fun and educational field trip ideas?
Check out the top spots in Florida for student groups: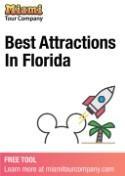 Best Attractions in Florida
Many of our clients are fellow travel agents and event planners. We have an
"Event Planning" section
to share our love of Miami—and to attract kindred spirits. It contains
good tips and tools to plan your own charter
. That's our way of making it irresistibly appealing to rent a bus with us, which in turn makes good jobs for our team.
About THE MIAMI TOUR COMPANY™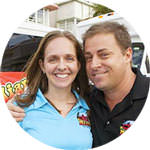 Operated by Michelle & Gus Moore
Started July 2008
A+
Rating by Better Business Bureau
Michelle and Gus Moore have worked in hospitality their entire professional lives. Their experience ranges from managing the The Miami Tour Company Team to planning corporate events for Microsoft and Gap. They've also been featured as a Small Business Success Story at Google.

They love the outdoors, hot yoga, raising their daughter, and exploring new places with friends.

Any questions, contact us; we are quick to reply.
Things people like about us
2022 HALL of FAME

TEN-TIME WINNER OF
CERTIFICATE of EXCELLENCE
2012 - 2013 - 2014 - 2015 - 2016 - 2017 - 2018 - 2019 - 2020 - 2021 - 2022 - 2023

Consistently great feedback from 1,168 reviews.
Customer reviews
Newest Reviews for this tour
Great service
Visited July 2019
San Ignacio University
Visited July 2019
Thank you Jeffrey
Visited June 2019
Private family tour
Visited June 2019
Read more reviews
What you should do now
We appreciate how hard it can be to arrange travel services, so here's how we made it easy and risk free
You call 305-260-6855, letting us know what you need.


We'll analyze your trip and discuss ways to save money and time.


When you're ready to book, all we require is a 25% deposit to save the date. The remainder is due 7 days before the charter takes place.


If you are traveling with a small group, you can save money and take a day tour with us (not private). Go here and view the options.


Please act promptly: we have a limited amount of vehicles and always become fully booked within several days out.