Go Snorkeling In Key West Aboard A Spacious Catamaran
After the snorkel tour, enjoy free beer, wine, and margaritas! To go, book online, or call 305-260-6855.
Price
Adults $119 – $124
Children (Ages 3 - 17) – $109
Infants (Under 3 years) – Free
Hotel pick-up & return
Courtesy transportation is available from hotels in Downtown, Miami Beach, and near Miami Airport.
•
See Hotels & Pick-up Times
Main pick-up spot
Holiday Inn Hotel in Downtown Miami at 7:15 AM. The address is 340 Biscayne Blvd.
Covered parking available
There is a parking garage at Bayside Marketplace. Parking meters are also in the middle of the street.
What's included:
Hotel pick-up & return

1 hour in Key West before snorkeling, 1.5 hours after
Luggage storage on the bus
Bus ride from Miami & back
Key West Audiobook for iPhone & Android
A sailing cruise, where you can also snorkel with neon fish
Snorkeling equipment & instruction
Free water, soft drinks, beer, wine
Read about the tour
If you think Key West landscape is beautiful, wait until you see the seascape.

Jump into the warm, blue water and swim with tropical fish.

Your snorkel tour is on the largest sailing catamaran in the Keys. The boat has a stairway to the sea, large sundeck, shaded lounge area, freshwater showers, restrooms.

Free soft drinks, beer, wine, and margaritas on the ride back to the dock.

Don't miss out on this amazing experience. Note: In Key West, the drop-off and pick-up location is: 908 Caroline Street (in front of the Railroad Museum.


Vehicle type
56 passenger coach bus, with comfy seats, foot rests, and panoramic windows. There is a restroom on the bus.
What happens after you book?
You will immediately receive an email with your tickets and directions.

Click "Check Availability" and save your place!
Customers love us because...
What's so great about MIAMI TOUR COMPANY?
About MIAMI TOUR COMPANY™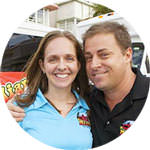 Operated by Michelle & Gus Moore
Started July 2008
A+
Rating by Better Business Bureau
Michelle and Gus Moore have worked in hospitality their entire professional lives. Their experience ranges from managing the Miami Tour Company Team to planning corporate events for Microsoft and Gap. They've also been featured as a Small Business Success Story at Google.

They love the outdoors, hot yoga, raising their daughter, and exploring new places with friends.

Any questions, contact us; we are quick to reply.
2019 HALL of FAME

SEVEN-TIME WINNER OF
CERTIFICATE of EXCELLENCE
2012 - 2013 - 2014 - 2015 - 2016 - 2017 - 2018 - 2019

Consistently great feedback from 901 reviews.
Customer reviews
3 reviews about this tour
Latest reviews
See all
Customer questions and answers
How does the snorkel tour work?
How much snorkel time do we get?
Do you have to know how to swim to go snorkeling?
What is there to see in Key West?
Where is the Key West Tour bus stop?
What time do we return to Miami?
Are reservations necessary?
Can I pay in cash on the bus?
Will you pick me up from my hotel?
What if I am staying outside your hotel pick-up area?
How much free time do we have in Key West?
Where can I park my car at the Main Pick-up Location?
How long does it take to drive to Key West?
What are some good items to bring on the bus ride to Key West?
Is there a map of the bus tour showing the route?
Is it necessary to print my receipt?
What if I don't receive the email confirmation with my receipt?
Can I come to your office?
Can I reserve a tour with my hotel concierge?
Can I bring luggage on the bus?
Will you pick us up at the cruise ship port?
Does the bus have air conditioning?
How will I recognize the bus?
Do we stop on the way to Key West?
Is there a Key West Audiobook?
Do you offer Wi-Fi on the bus ride to Key West?
Will you take me back to my hotel after the tour?
Are there beaches in Key West?
Should I bring an umbrella?
What is your hurricane policy?
Do you offer group rates?
What languages do you offer?