Visit The Cleanest And Most Friendly Airboat Park In The Everglades... Only 27 Miles From Miami
Airboat tour, alligator show, exhibits, & park included in one ticket. To go, pick a date & book online, or call (305) 260-6855.
Price
Adults $28 – $31
Children (Ages 5 - 11) – $15
Infants (Under 5 years) – Free
What's included:
Park entrance
30-minute airboat tour by local guide
Alligator & wildlife show
Jungle trail, observation platform, exhibits
Snack bar & souvenir shop
Driving directions
About the park
Explore the glades with an exciting airboat tour and wildlife show at the Everglades Safari Park.

This family-friendly adventure blends education, beauty, and safe thrills, earning glowing reviews from guests. It's meant for people who want to drive themselves to the park and save.

This activity takes place at Everglades Safari Park on Tamiami Trail - 27 miles west of Miami Airport.

If you need a ride, select another tour.
Park hours
The Park is open every day from 9am to 4pm. Boats depart every 25 minutes.
Customers love us because...
What happens after I book?
You will immediately receive an email with your tickets & directions.


What's so great about MIAMI TOUR COMPANY?
About MIAMI TOUR COMPANY™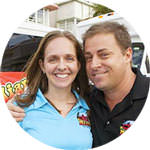 Operated by Michelle & Gus Moore
Started July 2008
A+
Rating by Better Business Bureau
Michelle & Gus Moore have worked in hospitality their entire professional lives. Their experience ranges from managing the MIAMI TOUR COMPANY Team to planning corporate events for Microsoft and Gap. They've also been featured as a Small Business Success Story at Google.

They love the outdoors, hot yoga, raising their daughter, and exploring new places with friends.

Any questions, contact us; we are quick to reply.
Customer questions and answers
Will you pick me up at my hotel?
Where is the park located?
Is it necessary to print my receipt?
What if I don't receive the email confirmation with my receipt?
Can I come to your office?
Can I buy tickets from my hotel?
What are the driving directions from Miami?
What are the driving directions from Fort Lauderdale?
What are the driving directions from the Florida Keys?
Do we get wet on the airboat ride?
Can infants take the airboat ride?
When can I use the restroom?
What type of clothing should I wear?
Should I bring an umbrella?
What is your hurricane policy?
Do you offer group rates?
What languages do you offer?