🤩 Be an explorer and experience Miami
Health and Safety Update
We limit the tour to 14 guests in the Mercedes-Benz van.


The vehicle is sanitized thoroughly before every tour.


Guests must wear face coverings indoors.


You must pre-purchase tickets. This allows us to maintain safe capacity levels.


Price
Adults $55 – $59
Children (Ages 3 - 17) – $45
Infants (Under 3 years) – Free
Start Time:
10 am (hotel pickups start at 9 am)
End Time:
2 pm
This is the best way to see the most of Miami in the shortest amount time.
Over 600,000 happy customers
went sightseeing with us since 2008. Most days, it's a mix of families, solo travelers, and friends.
The tour has everything you need for a great day of fun—
free bottled water, luggage storage, illustrated maps, phone charger, and a state-certified, experienced driver.
This is a one-of-a-kind experience that is
thoughtfully planned.
From a
luxury vehicle
with seat belts, to a relaxed pace, we have your comfort and safety in mind.
Miami To The Max!
is operated by
The Miami Tour Company
. Absolutely no other company offers this unique type of high-tech
driving and walking tour combination
, enhanced with good music and stories about the area.
Listen to the tour introduction before you go
The main pick-up spot
Bubba Gump restaurant bus parking area at 9 am. The address is 401 Biscayne Blvd.

Covered parking available
$7 Parking Special




Hotel pickup and return
We provide a courtesy shuttle from Downtown Miami and hotels in Miami Beach.
Note: you are responsible for transportation back to the hotel. The tour will end at Bayside Marketplace at 2:00 PM.
•
See Pickup Times
Your tour includes...
Luggage Storage
Bottled Water (a $5 value!)
Souvenir Guidebook (a $5 value!)
Ocean Drive Walking Tour Map
Little Havana Walking Tour Map
Wynwood Walking Tour Map
Sunscreen
Photo Scavenger Hunt
Dining Guide
What's for lunch?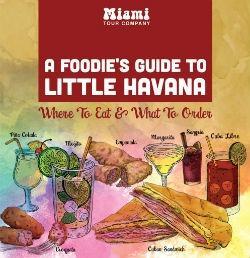 We stop in Little Havana for a meal break at 12:15 pm.
This is a great time to eat some good Cuban food. Customers receive a
Dining Guide
with restaurant menus and our favorite dishes.
Show Guide
There are many affordable options. You're free to explore and eat on your own, but we'll show you around the neighborhood first.
There's also an ice chest on the bus; and you may to bring your own lunch.
Get a FREE paperback version of the maps on the bus.


15 best places to see
Art Deco Historic District
Bayside Marketplace
Brickell Financial District
Domino Park
Espanola Way
Fisher Island
Jungle Island
Little Havana
Lincoln Road
Millionaire's Row
Ocean Drive
Port Miami
South Beach
Star Island
Wynwood Walls
2022 HALL of FAME

TEN-TIME WINNER OF
CERTIFICATE of EXCELLENCE
2012 - 2013 - 2014 - 2015 - 2016 - 2017 - 2018 - 2019 - 2020 - 2021 - 2022 - 2023

Consistently great feedback from 1,168 reviews.
Customer reviews
Newest Reviews for this tour
Barnabee was a great guide
Visited June 2021
Highly recommended
Visited April 2021
Great post cruise tour
Visited March 2020
Excellent
Visited March 2020
Read more reviews
Read more about the tour
First up, this is not an ordinary tour. Miami To The Max! is a chance to have your curiosity about Miami - and your taste buds - totally satisfied.

The tour is especially great for families, solo travelers, and friends.

Imagine a day unlike any other...

... it starts with a rock'n roll bus tour around South Beach. Then we take a beach walk and get some exercise in the Art Deco District. After that, we cruise over to Wynwood and learn about 9 different types of Street Art. By now we're starting to get hungry so we drive over to Little Havana where you can buy lunch and learn about Cuban culture at the Latin street fair around Domino Park. Take our photo scavenger hunt on your smartphone. Doing Miami To The Max! is an absolute must. You'll meet nice people and enjoy good stories, music, exercise, and breathtaking scenery.

After you finish the tour, you'll have a great understanding of the area.


What you should do now
We have already escorted a group much like yours. (We've been guiding tours around Miami for over 10 years.) 5-star reviews are fairly common. So if you'd like us to be your guide—to dramatically improve the experience of everyone in your group—check availability now. If you prefer to buy tickets by phone, call us directly at 305-260-6855.


Still have questions? We appreciate how hard it can be to take a tour with a company you just met, so here is how we made it easy: you contact us letting us know what you need. You don't need to provide anything, if you just have some questions.


If you want to receive a proposal, please tell us the dates, amount of people, and what you want to do. For example, the name of this shared activity is the "Miami To The Max! Tour".

All tours are covered by our Bad Weather Guarantee, which is described

here

.

Why wait? Check availability now. Or, you can buy a Gift Card to use yourself or to give as a gift or prize.
Please act promptly: many of our tours are popular and sell out in advance.