Highlights:
Well-organized, get picked-up on time, stay on schedule
Luxury bus, with powerful air conditioning and big windows
Small groups give the tour a relaxed, family atmosphere
Fun guides make it like you're spending a day with a friend
Description:
Don't miss out on this amazing experience. Take a tour deep inside the Everglades on an airboat, watch a wildlife show, and you can even hold a baby gator! Certified airboat captains navigate the wetlands, speeding through waterways and stopping to point out the wildlife. Visitors may see alligators, turtles, and exotic birds as you explore the sawgrass marshes. This family-friendly tour is perfect for those seeking a little adventure on their vacation; high speeds and tight turns combine the rush of an amusement park ride with the thrill of a safari. After the airboat tour, you'll watch a wildlife show, where you can meet and greet and exotic species – from gators and snakes to raccoons and panthers. This family-friendly adventure blends education, beauty, and safe thrills, earning glowing reviews from guests.
Inclusions:
30-minute airboat tour by an experienced guide
Alligator show and a range of exotic animals
Free pick-up and return from most hotels
Free bottled water
Free souvenir map
Free admission to Mansion Nightclub
Headset for tour commentary in English, Spanish, French, German, Italian, Portuguese, Russian, and Mandarin
Tour Photos:
You can download full resolution images to your computer by right-clicking them and selecting "Save image as..."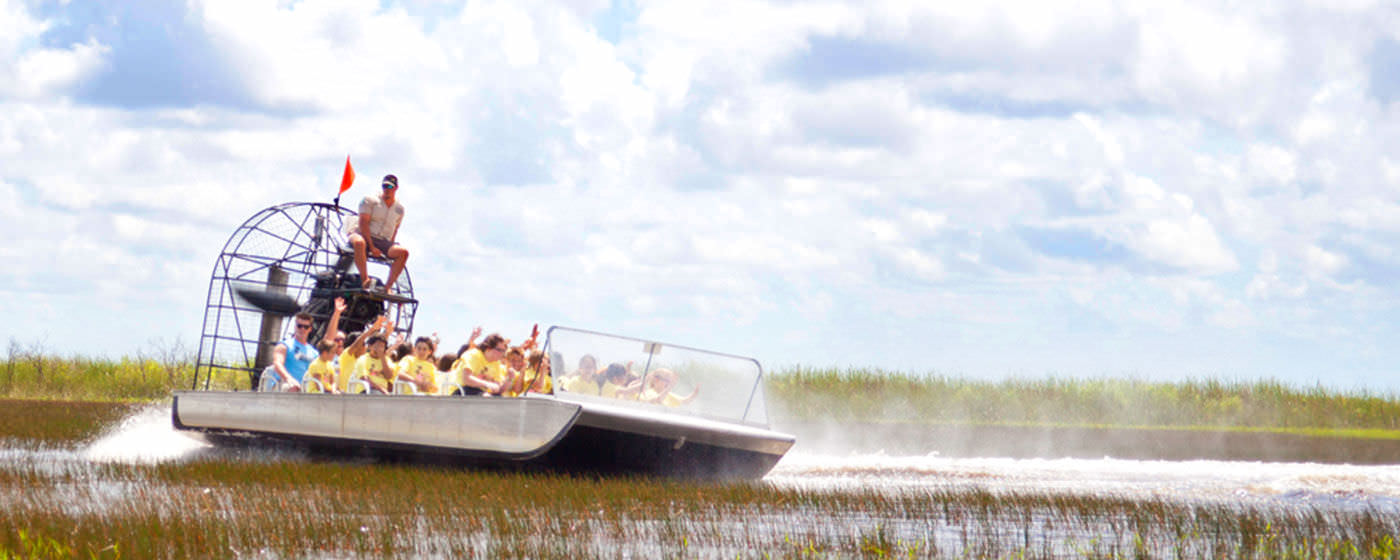 Taking an airboat ride in the Florida Everglades. The Everglades comprises the largest subtropical ecosystem in North America, and is the largest wilderness area east of the Mississippi River.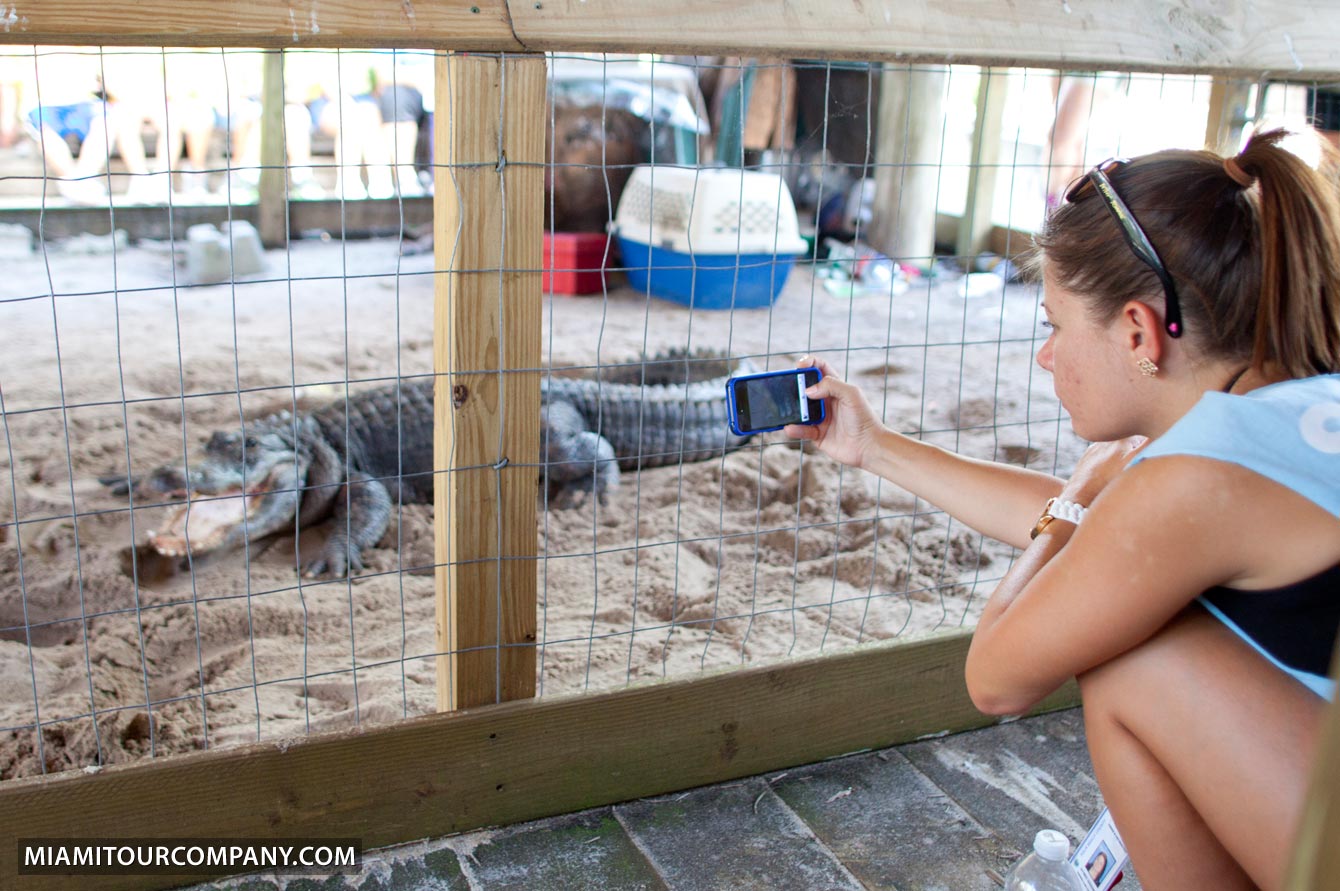 Getting a close up picture of a mother alligator insider her pin. The Everglades is the only place in the world where the American Alligator and the American Crocodile co-exist in the wild.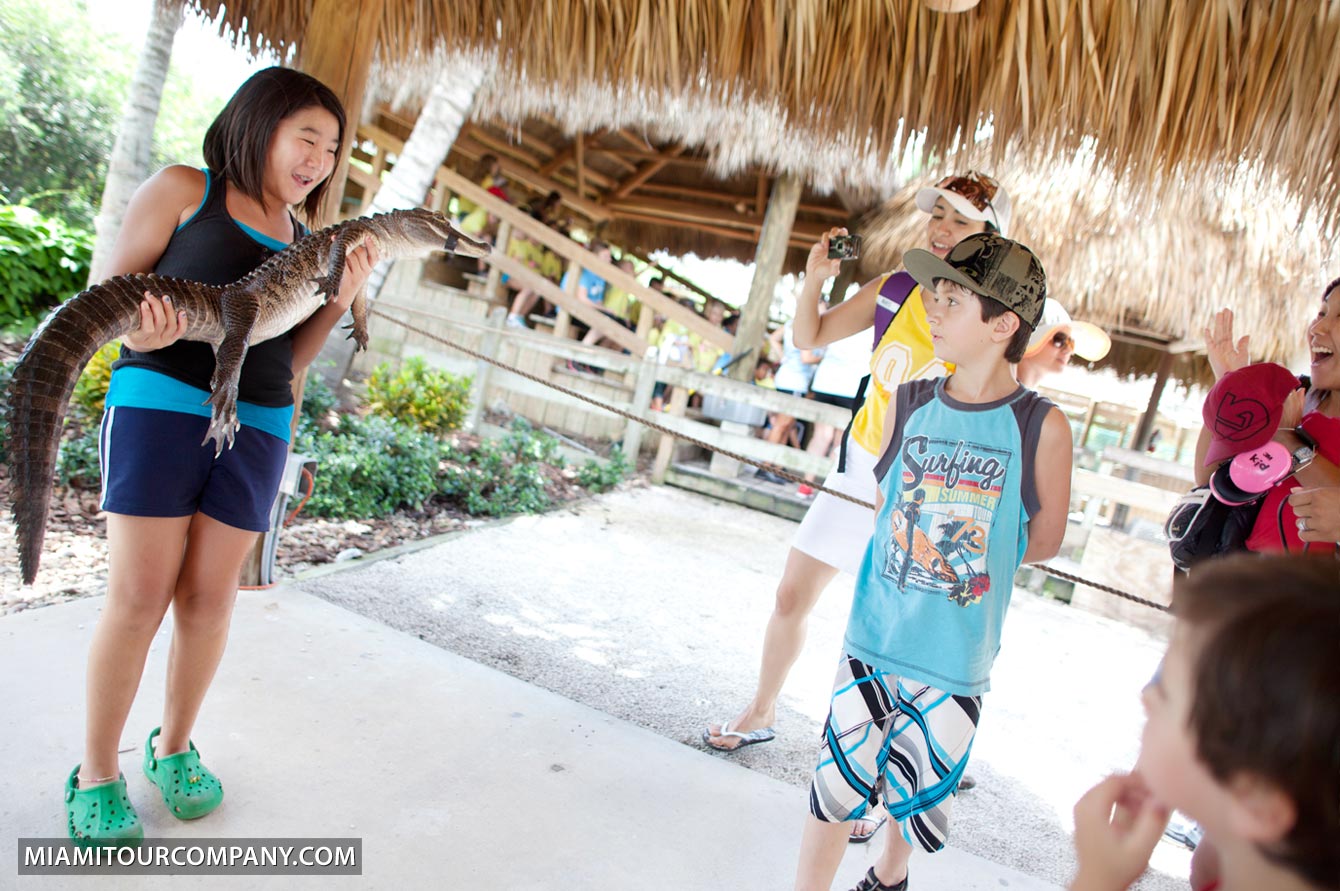 A fearless young girl holding a baby alligator at Gator Park in Frog City, Florida.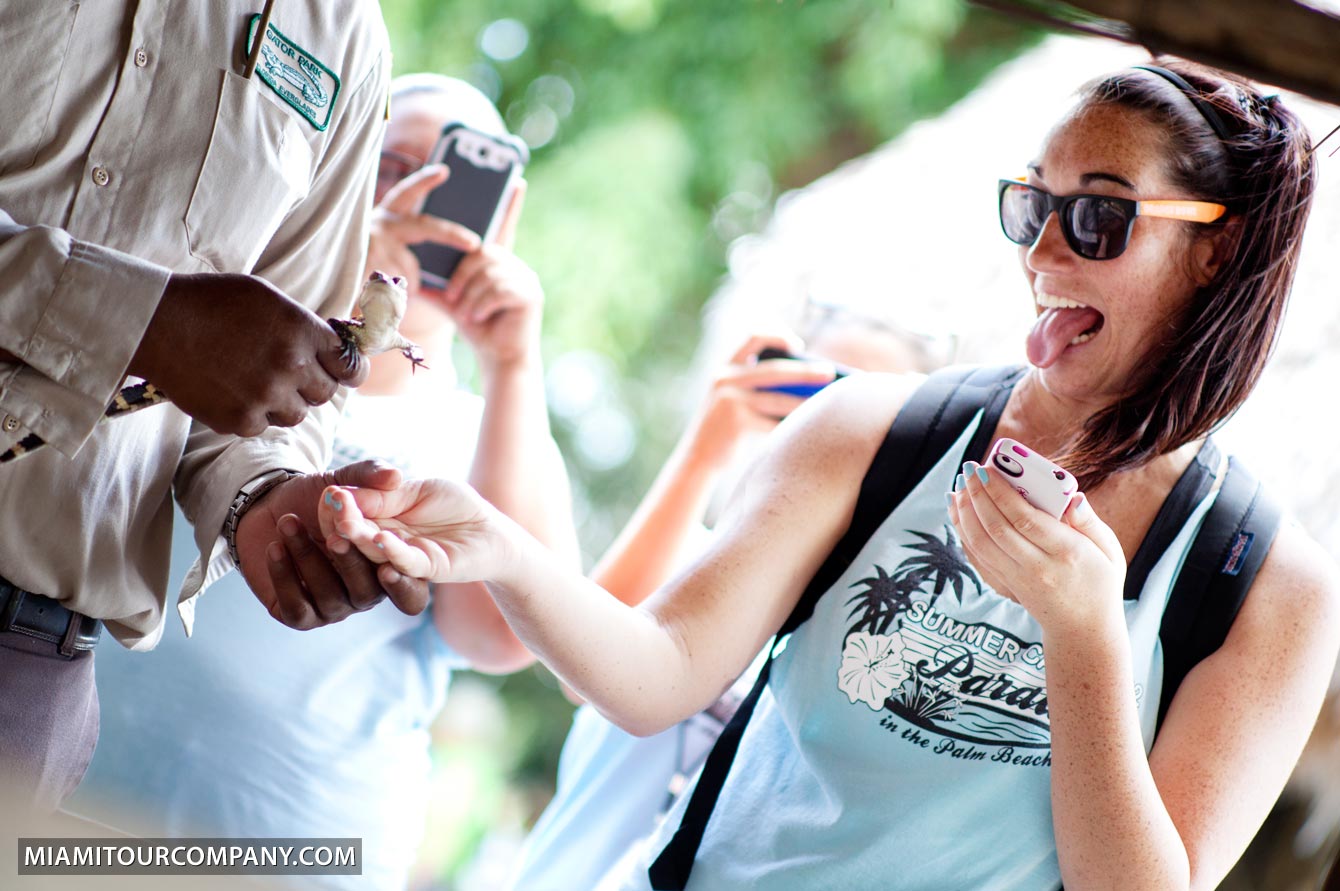 Others are
not
so fearless, when it comes to holding a baby gator. In addition to alligators, the area is also home to the largest breeding ground for tropical wading birds in North America.
View more Everglades photos on Flickr.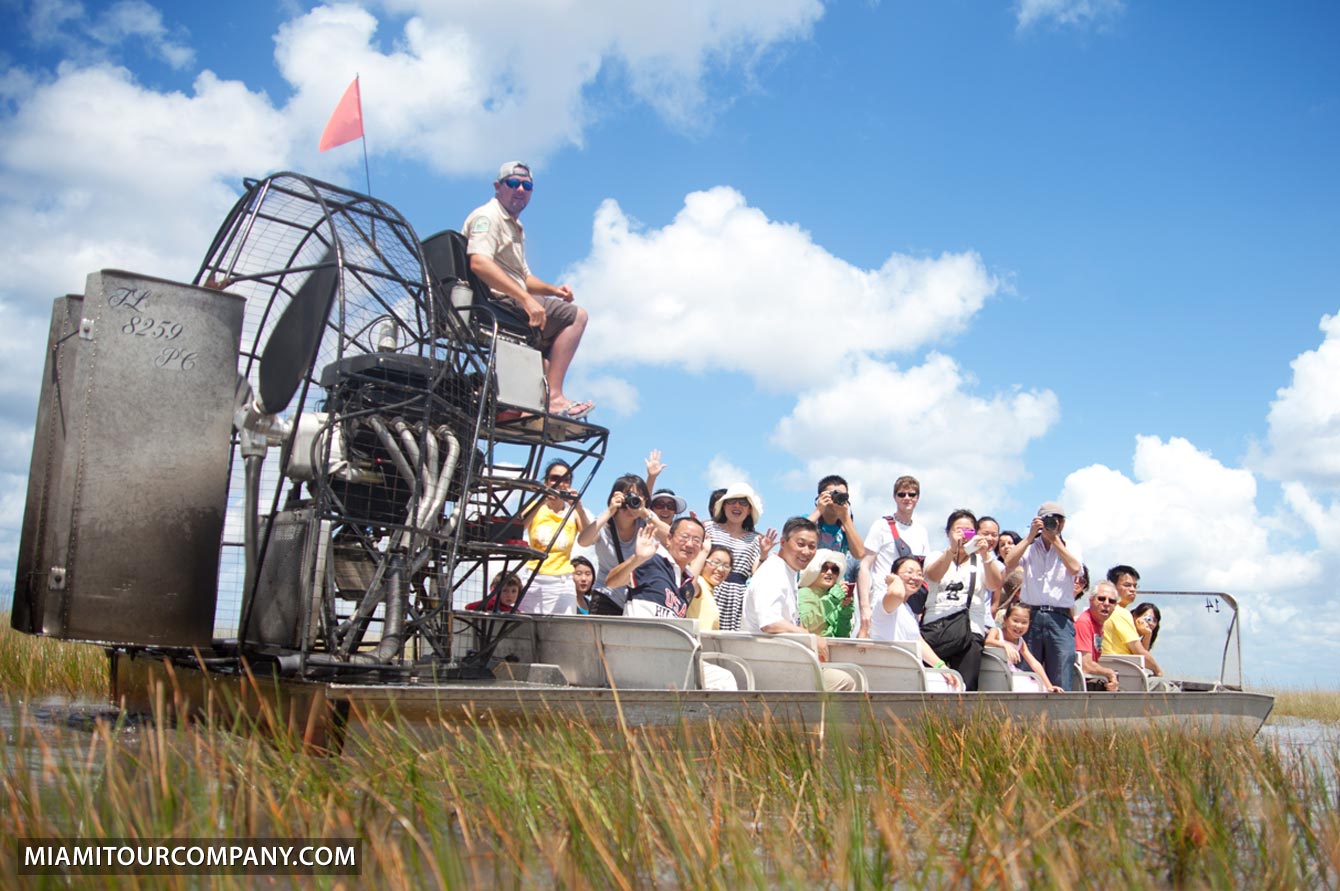 Standing in the swap, taking a group photo of tourists on the airboat. The grassy plant in the foreground is known as sawgrass. The plant got its name, because the blades are so sharp, they have been known to cut through clothing.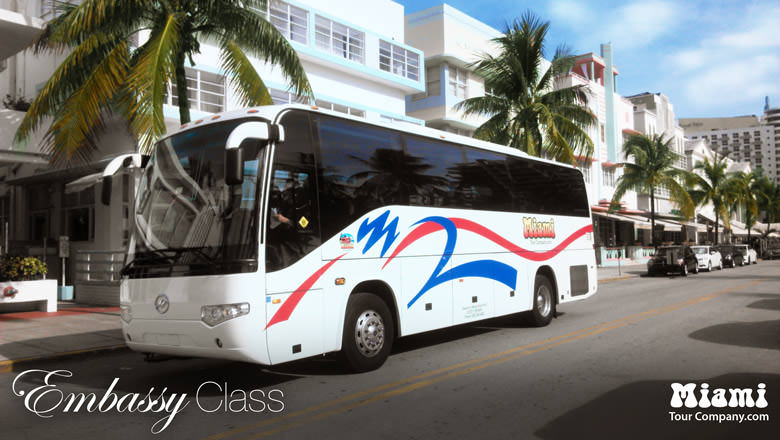 Driving down Ocean Drive in Miami Beach, our Embassy Class tour bus passes by many famous sites, including the Versace Mansion, a movie location from the "Scarface" and many iconic Art Deco hotels.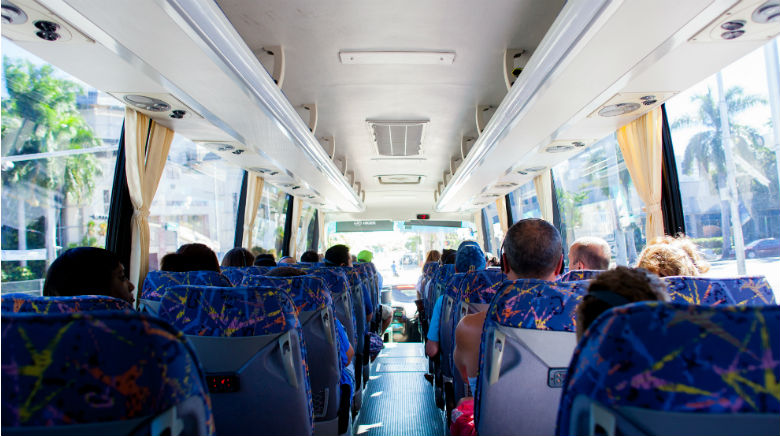 Take a peek inside our comfortable tour bus. See the big windows that are perfect for sighseeing
Miami Tour Company logo

The official Miami Tour Company logo. Feel free to use the logo, or the photos above in your promotions and publications.
About Miami Tour Company:
Miami Tour Company
is the world's leading tour provider for Miami vacations. We are family owned and operated, and believe that everything we do is to create a wonderful experience for you. We do this by making our tours fun and treating customers like friends. Contact us at (305) 260-6855, or visit our website: https://miamitourcompany.com
Learn more about it at miamitourcompany.com: