Combine An Airboat Tour In the Glades With A Boat Cruise Around Miami
This is a fun experience that is
thoughtfully planned.
From the free bottled water, to your own
charging outlet
, to the luxury bus, we have your comfort in mind.
To go, book yourself online or call (305) 260-6855.
Duration
6 hours 45 minutes
Price
Adults $84 – $89
Children (Ages 3 - 17) – $74
Infants (Under 3 years) – Free
Special Offer:
Get FREE WiFi, when you reserve with us.
Book Now
We are the official tour operator. The bus ride is supplemented with music and stories for people speaking
English, Spanish, French, Russian, Italian, German, Portuguese,
and
Mandarin.
Your ticket includes transportation to the Park, boat ride, alligator show, nature trails, wildlife exhibits, National Park entrance fee, and more.
Hotel pickup and return
Courtesy shuttle from hotels in Downtown and Miami Beach.
•
Show Pickup Times
Main pickup spot
If you are driving or getting a ride, meet us at Bayside Market Bus Parking Area, near Bubba Gump Restaurant at 10:00 AM.
Covered parking available
$5 Parking Special
What's included:
Miami boat tour (a $35 value!)
Luxury bus transportaion
Park admission (a $30 value!)
Open top airboat ride
Alligator show
Kids safety ear muffs for airboat
Bottled Water
WiFi (a $5 value!)

Souvenir Map (a $5 value!)

Sunscreen
Mosquito repellent
What's for lunch:
In the Everglades, there is an air conditioned restaurant at the park.
Show Menu
In Miami, there is a food court, bars, and restaurants at Bayside.
Read about the tour
Come make new friends and enjoy good music, stories, and beautiful scenery.

First, you'll hop on an airboat for an exciting Everglades tour. After the boat ride, you'll meet an animal handler and watch an alligator show. The experience is safe and animal-friendly, as the park follows strict National Park guidelines. Safari Park is the top rated alligator farm authorized to operate boat tours inside the Park. They were voted the Top 5 Attraction in Miami by USA Today.

Then, you'll head back to Miami and hop aboard a yacht for relaxing cruise around the Bay. The boat has an air-conditioned low level, shaded observation deck, restrooms, and full bar.
Customers love us because...
Bus features
Low doorway for easy entry
Secure luggage compartment
Blue mood lighting
Clean and odor-free
Air-conditioning vents
Big windows for sightseeing
Cool and quiet cabin
Protection from rain & sun
Eco-friendly, clean air bus
Want to sit in the FRONT ROW? (only $16)
Upgrade your seats on the checkout page. Based on availability.
Attention cruise ship passengers
It's easy to take a tour with us, before or after your cruise.
Save 10% of your entire group - Use Promo Code: CRUISER
We GUARANTEE you won't miss your boat or flight
If your cruise is late or canceled, get a full refund
Your luggage is locked securely on the bus
Official Tour Operator at Port Miami
Certified by Department of Transportation & Safety
Higher quality than generic cruise ship tours
How to get off the ship early
Carry all your own luggage off the boat and choose the "Self Assist" or "Walk Off" option. You'll be the first group called to disembark. Generally, you can be off the ship and through customs by 7:45am.
During the cruise, you can also notify the front desk you have an early tour and they'll give you priority disembarkation.
Watch How To Taxi It From Port
Airport drop-off available
This is for passengers with domestic flights from MIA and FLL after 7:30pm and 8:30pm international.

Your luggage is stored safely on the bus.

After the tour, the most efficient way to the airport is a taxi. Price to MIA is $25. Price to FLL is $80. Uber and Lyft are even cheaper. MIA arrival time is at 6pm. FLL arrival time is 6:30pm.


What happens after I book?
You will immediately receive an email with your tickets & directions.

What's so great about MIAMI TOUR COMPANY?
24-hour cancellation policy
Sometimes plans need to be canceled. That's why we let you cancel your tour for a full refund, if you notify us 24-hours before.
Tour schedule
Departs
Every day
Departure Points
Centrally located Miami hotels
OR
Bubba Gump restaurant at Bayside Marketplace
Departure Time
10:30am
Hotel pick-ups start at 9am.
Duration
7.5 hours (Approximately)
Return Details
Return to your pick-up point at approximately 5:45pm.
Everglades Adventure + Boat Tour Schedule
| Time | Details |
| --- | --- |
| 9:00 AM - 10:30 AM | Hotel pick-ups |
| 10:30 AM | Tour starts at Bayside |
| 11:30 AM | Arrive at the Park |
| 11:45 AM | Airboat Ride |
| 12:30 PM | Wildlife Show |
| 1:00 PM | Free time at the Park |
| 1:30 PM | Drive to Miami |
| 2:00 PM | Arrive to Bayside Market |
| 2:45 PM | Board the boat |
| 3:00 PM | Cruise starts |
| 4:45 PM | Free time |
| 5:30 PM - 6:30 PM | Hotel drop-offs |
About MIAMI TOUR COMPANY™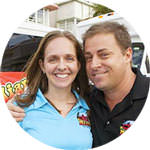 Operated by Michelle & Gus Moore
Started July 2008
A+
Rating by Better Business Bureau
Michelle & Gus Moore have worked in hospitality their entire professional lives. Their experience ranges from managing the MIAMI TOUR COMPANY Team to planning corporate events for Microsoft and Gap. They've also been featured as a Small Business Success Story at Google.

They love the outdoors, hot yoga, raising their daughter, and exploring new places with friends.

Any questions, contact us; we are quick to reply.
2018 HALL of FAME

SEVEN-TIME WINNER OF
CERTIFICATE of EXCELLENCE
2012 - 2013 - 2014 - 2015 - 2016 - 2017 - 2018

Consistently great feedback from 849 reviews.
Customer reviews
16 reviews about this tour
Latest reviews
MTC is excellent
Visited October 2018
See all
Customer questions and answers
Will you pick me up at my hotel?
How do I get to the airport?
What is your advise for cruise ship passengers?
Can I pay in cash on the bus?
How long does it take to drive to the Everglades?
Is there a map of the Everglades tour showing the route?
Do we get wet on the airboat ride?
Can infants take the airboat ride?
Do I need to print my receipt?
What if I don't receive the email confirmation with my receipt?
Can I come to your office?
What if I am staying outside your hotel pick-up area?
Can I reserve a tour with my hotel concierge?
If I'm staying near Miami Airport, how do I take a tour?
If I'm staying near Sunny Isles, how do I take a tour?
Why no double dercker bus?
Can I bring luggage on the bus?
Do buses have power outlets?
How much legroom is in the bus?
How will I recognize the bus?
When can I use the restroom?
Do you provide free bottled water?
What's the boat cruise like?
Is there a map of the cruise?
Is there food for sale onboard?
Does the boat have air conditioning?
Do we have any free time after the tour?
Where can I eat during the boat tour?
What type of clothing should I wear?
Should I bring an umbrella?
What is your hurricane policy?
Will you take me back to my hotel after the tour?
Do you offer group rates?
What languages do you offer?