🤩 Ride the world's most exciting tour boats
No kidding, this is
Miami's ultimate high-speed thrill ride on the water.
Click here to check availability
Imagine feeling ocean breeze, as you speed across the bay. Now, make it a reality. Come boating with us today!
Thriller is the ONLY speedboat in Florida that can take you on the open ocean
One of the most popular attractions at Bayside Market in Miami,
Thriller Speedboat Adventures
excite thousands of people each year.
Get ready for an adrenaline-filled experience of a lifetime
. The jet boat can reach speeds of up to 40 mph. Riders must be 3 years or older.
Book yourself online or call (305) 260-6855.
Price
Adults $38 – $41
Children (Ages 3-11 years) – $24
Infants (under 3) – not allowed
Multiple departures daily from Bayside
11 am
12 pm
1:30 pm
2 pm
3 pm
4 pm
5 pm
6 pm
7 pm
The boat tour last 45 minutes.
The captain will take the weather conditions into consideration before reaching top speeds and/or going into the ocean, but most of the time we go.
About getting wet: the wind and boat speed can affect ocean spray, which may enter the boat. We try to avoid it, but you may get a little wet.
Arrive 30 minutes early.
Departure point
The tour starts and ends at Bayside Marketplace, located at 401 Biscayne Blvd.
Covered parking is available
Enter the parking garage next to Bubba Gump Restaurant.


Your tour includes...
45-minute Thriller Speedboat Ride (a $40 value!)
Narrated tour about the city about celebrity homes
Rock n roll music
The places you'll see
Biscayne Bay
Star Island
South Beach
Millionaire's Row
Celebrity Homes
Flagler Monument
Jungle Island
Fisher Island
Financial District
Miami Skyline
Read about the boat tour
Like a character in "Miami Vice" you'll hop on the Thriller Speedboat and see Miami from the boat's unique perspective — the open ocean.

This is the only tour boat in Florida that can give you an off-shore experience.

Get ready for an adrenaline-filled tour of a lifetime. The boat can reach speeds up to 40 mph - she's a Supercat 55 foot power catamaran. There are only six vessels like her operating in United States, and Miami has three.

Boating is a water sport, you will get wet if you sit in the back of the boat.

The ride last 45 minutes (sorry, pregnant women may not participate).


Making a reservation is easy
Just book it yourself online and arrive 30 minutes before you want to go.

Tickets are not refundable, but if you're late, you can redeem the ticket on the next available tour.

We will reserve a cruise time for you, but you must purchase tickets by phone. Call the tour office at (305) 260-6855.


What happens after I book?
The tour schedule
Departs
Every day
Departure Point
Bayside in Downtown Miami
Departure Times
11 am, 12 pm, 1:30 pm, 2 pm, 3 pm, 4 pm, 5 pm, 6 pm, 7 pm
Duration
45 miutes
More combo tours can also be found in this category:
Thriller
About MIAMI TOUR COMPANY™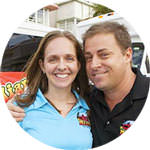 Operated by Michelle & Gus Moore
Started July 2008
A+
Rating by Better Business Bureau
Michelle and Gus Moore have worked in hospitality their entire professional lives. Their experience ranges from managing the Miami Tour Company Team to planning corporate events for Microsoft and Gap. They've also been featured as a Small Business Success Story at Google.

They love the outdoors, hot yoga, raising their daughter, and exploring new places with friends.

Any questions, contact us; we are quick to reply.
Do great tours that support good causes
A portion of the sale will support local groups. (
Learn about our charity work
)
2019 HALL of FAME

SEVEN-TIME WINNER OF
CERTIFICATE of EXCELLENCE
2012 - 2013 - 2014 - 2015 - 2016 - 2017 - 2018 - 2019

Consistently great feedback from 1,039 reviews.
Customer reviews
Newest Reviews for this tour
Read more reviews