We started Miami Tour Company in 2002 with a simple notion: remove the agony out of taking a bus tour. We wanted to offer tours we would want to take. Based on our own tour experiences, we knew most of the frustration was related to the hotel pick-ups. People get annoyed when the bus is late. We have done a lot to fix this problem. Our reservation system incorporates Google Calendar, which enables us to see who is taking a tour, and the location and time they are scheduled to be picked up.
Our passengers appreciate a well-organized tour, but they may not understand what it takes behind the scenes to deliver a great experience. Our reservation system allows us to sort through complex travel details and create a daily tour schedule. Having a well-planned schedule helps our drivers stay organized and on time.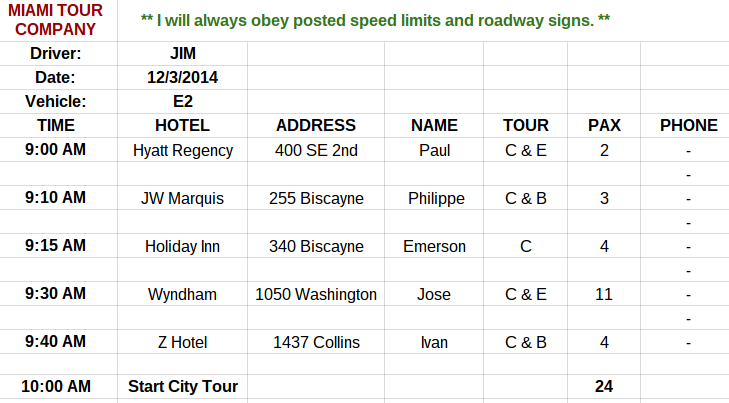 We aim to be on-time 100 percent, but nobody is perfect. There are rare occasions when delays occur, usually due to traffic and weather. When this happens, we immediately call and inform the passengers.
Smart tour scheduling
At Miami Tour Company, we consider a well-organized tour to be integral to a positive experience. Thanks to our reservation system, bus tours have shifted from being chaotic, to something far more pleasant.
Are you ready to get started?
{include file="customer/buttons/main_button.tpl" button_title="See our Well-Organized Tours" href="https://miamitourcompany.com/tours-in-miami.html" additional_button_class="btn btn-primary btn-lg"}