Planning An Islamorada Tour Just Got A Lot Easier In Miami
Arranging travel is complicated. Miami Tour Company makes it easy.
Things people like about us
Here's how it works
A quick guide to booking a charter with Miami Tour Company
1
Contact us
to reserve a bus now...
2
We arrive early
to make sure everything runs smoothly...
3
Get to your destination
on-time...
4
Feel the love from your group
for planning a great trip... It's as easy as that!
About the tour
Intimidated by the planning process? Don't worry about a thing. You just found the best Islamorada tour company in Miami. We own a fleet of new vehicles and will help you save time, money, and make the most of your day!

Because this is a private tour, you choose the start time, pick-up, and drop-off places. This means, you can get picked up at the airport, taken on an amazing tour to Islamorada, and and brought back to Miami whenever you're ready. The entire day is customized just for you!
Customers love us because...
What happens after I book?
You will immediately receive an email with your tickets & directions.
About THE MIAMI TOUR COMPANY™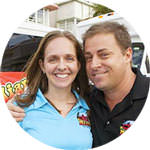 Operated by Michelle & Gus Moore
Started July 2008
A+
Rating by Better Business Bureau
Michelle and Gus Moore have worked in hospitality their entire professional lives. Their experience ranges from managing the The Miami Tour Company Team to planning corporate events for Microsoft and Gap. They've also been featured as a Small Business Success Story at Google.

They love the outdoors, hot yoga, raising their daughter, and exploring new places with friends.

Any questions, contact us; we are quick to reply.
2022 HALL of FAME

TEN-TIME WINNER OF
CERTIFICATE of EXCELLENCE
2012 - 2013 - 2014 - 2015 - 2016 - 2017 - 2018 - 2019 - 2020 - 2021 - 2022 - 2023

Consistently great feedback from 1,168 reviews.
Customer reviews
Newest Reviews for this tour
Read more reviews
Customer questions and answers
What is Miami To The Max?
Will you customize the tour for us?
What are the lunch options?
Is it ever too early or too late to contact you?
How much is the cost - What will I REALLY end up paying?
What kind of vehicles are available?
What size groups can you accommodate?
How much luggage can I bring?
Are there restroom onboard?
Are food and beverages allowed the bus?
Where do you have authority to travel?
Can you help me find a hotel?