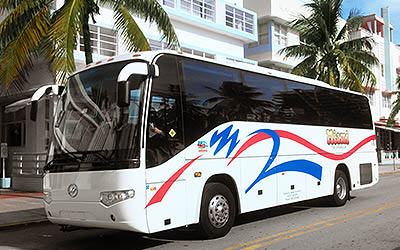 Miami Tour Company
provides you with free pick-up and return transportation from hotels in Miami Beach and Downtown Miami.
We do our best to arrive early, so please be ready 10 minutes before the scheduled time.
Note: We will NOT come into the hotel lobby, or drive the bus into the hotel driveway to meet you. You MUST be waiting outside the hotel with a view of the street, looking for the bus.
Select tour for pick-up time
Customer questions and answers
If I am not staying near the pick-up area, where do I meet the bus?
If I am staying in Sunny Isles, how do I take a tour?
If I am staying near Miami Airport, how do I take a tour?
Can I bring luggage on the bus?