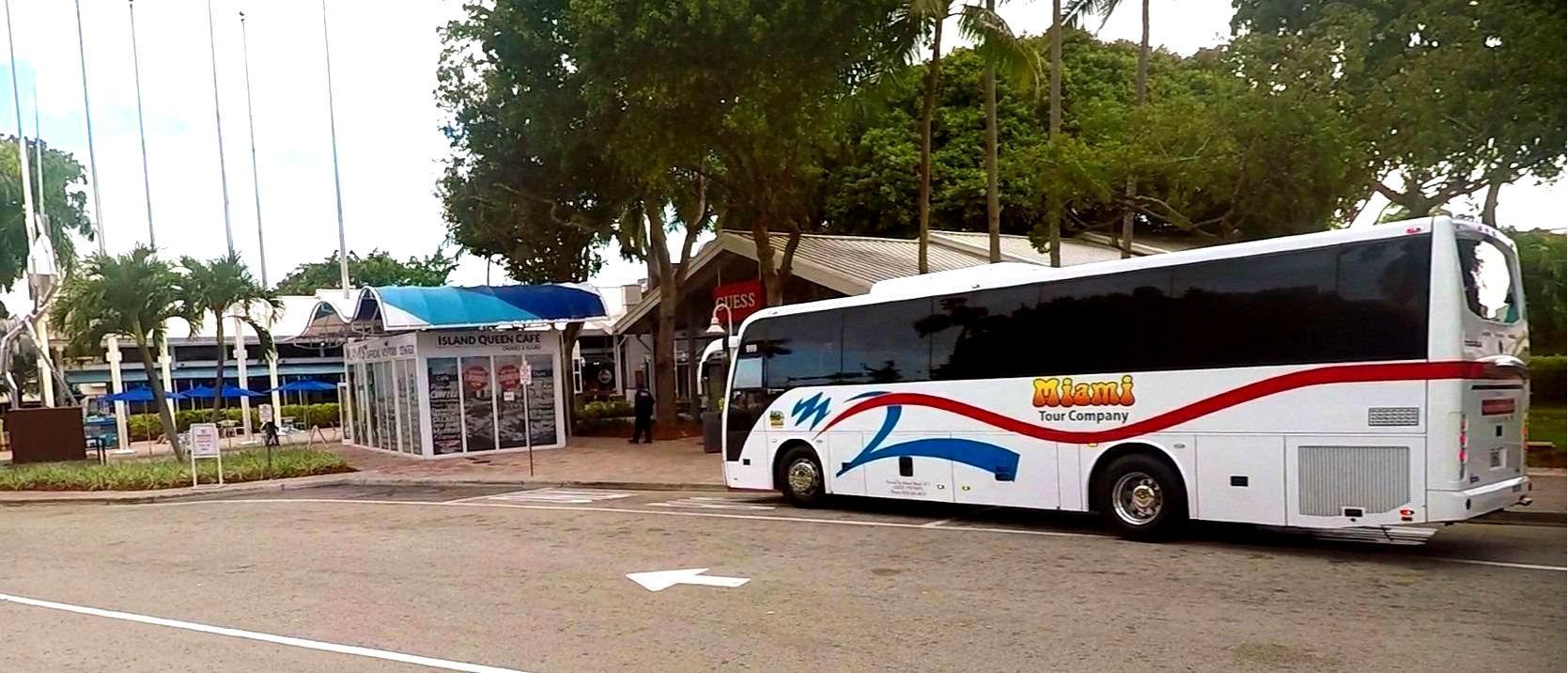 Our Main Pick-up Spot is at the Bus Parking area at Bayside Marketplace. The address is: 401 Biscayne Blvd., Miami, FL 33132.
Watch this video to see how to find us:
Driving Directions From the North and South
Take I-95 to I-395 East.
Exit at Biscayne Boulevard off ramp.
At the end of the off ramp, continue eastbound across NE 2nd Ave.
Turn right (South) onto Biscayne Boulevard, continue until you reach NE 2nd Street.
Turn left (East) at NE 2nd Street.
Turn left (North) at Biscayne Boulevard.
Go one block to NE 3rd Street and turn right (East) into Bayside Market.
Immediately veer left toward the parking garage.
Frequently Asked Questions
Where do I park my car?
There is a parking garage at the entrance to Bayside Market, next to the American flags. An early bird parking special is available -- if you arrive before 10:00 AM -- you can park until 6:00 PM for $5. On Saturday and Sunday, the garage accepts cash only. Parking meters can also be found along Biscayne Boulevard.
If I am staying in Miami Beach, is it necessary to go to the Main Pick-Up location?
No. We provide free pick-up and return transportation service to all hotels in Miami Beach and Downtown Miami. See the related tour for your exact pick-up time.
If I am staying near Miami Airport, how do I take a tour?
If you don't have a car, the quickest way is to take a taxi. If you wish to take a city bus, board the "Route 7" Bus on NW 7th Street and get off the bus at NE 3rd Street in Downtown Miami. Then, walk two blocks east to Bayside Marketplace and Bubba Gump Restaurant.
Learn more
How do I take the Miami Metrorail Train to the Main Pick-Up Location?
Take the Metrorail to the Government Center. Connect to the downtown MetroMover Inner Loop and continue to the College/Bayside stop. The Main-Pick-Up Location at the Holiday Inn Hotel is one block east from the College/Bayside stop.


How do I take the train from Broward and Palm Beach?
From Broward and Palm Beach County you can take the Tri-Rail commuter trains (that connect with Miami's Metrorail system) and follow the MetroRail instructions listed above.


Can I bring luggage on the bus?
Yes. When booking online, please notify us that you have luggage in the "Comments" section of the booking form.