Go deep into the Everglades on an exciting airboat tour with a local guide.
Bus Ride, Airboat Tour, Alligator Show, Exhibits, & Park included in one ticket.
Things people like about us
About the tour
Local airboat guides take you into the wetlands, speeding through waterways and stopping to point out the wildlife. You may see alligators, turtles, and exotic birds as you explore the sawgrass marsh. This family-friendly tour is perfect for those seeking a little adventure on their vacation; high speeds and tight turns combine the rush of an amusement park ride with the thrill of a safari. After the airboat tour, you'll watch a wildlife show, where you can meet and greet and exotic species – from gators and snakes to raccoons and panthers. This family-friendly adventure blends education, beauty, and safe thrills, earning glowing reviews from guests.
Price
Adults $52 – $59
Children (Ages ) – $52
Infants (Under null years) – Free
Customers love us because...
What's for lunch:
Cuban sandwich

Chicken empanada

Green salad
White rice & Black beans
Plantain chips
Cheese & guava pastry
Ice cream
Cuban coffee

Vegetarian & gluten-free option
Hotel pick-up & return
Courtesy transportation from hotels in Downtown Miami and Miami Beach is available. On the checkout page, see the hotel pick-up list for times.
What happens after I book?
You will immediately receive an email with your tickets & directions.
About THE MIAMI TOUR COMPANY™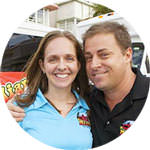 Operated by Michelle & Gus Moore
Started July 2008
A+
Rating by Better Business Bureau
Michelle and Gus Moore have worked in hospitality their entire professional lives. Their experience ranges from managing the The Miami Tour Company Team to planning corporate events for Microsoft and Gap. They've also been featured as a Small Business Success Story at Google.

They love the outdoors, hot yoga, raising their daughter, and exploring new places with friends.

Any questions, contact us; we are quick to reply.
2022 HALL of FAME

TEN-TIME WINNER OF
CERTIFICATE of EXCELLENCE
2012 - 2013 - 2014 - 2015 - 2016 - 2017 - 2018 - 2019 - 2020 - 2021 - 2022 - 2023

Consistently great feedback from 1,168 reviews.
Customer reviews
Newest Reviews for this tour
Read more reviews
Customer questions and answers
Are reservations necessary?
Can I pay in cash on the bus?
Will you pick me up from my hotel?
Is it necessary to print my receipt?
What if I don't receive the email confirmation with my receipt?
Can I reserve a tour with my hotel concierge?
Does the bus have air conditioning?
How long does it take to drive to the Everglades?
Do we get wet on the airboat ride?
Can infants take the airboat ride?
Do you provide free bottled water?
What type of clothing should I wear?
Should I bring an umbrella?
Will you take me back to my hotel after the tour?