Key West Tours On Sale Today
Compare the tour options.
Short on time? Call 305-260-6855.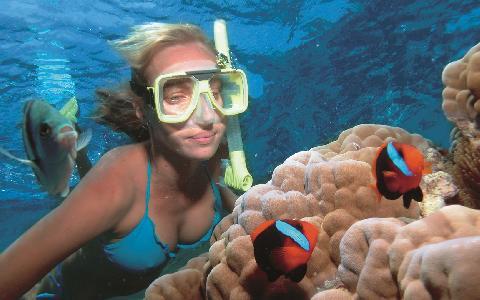 About Key West
Where there is freedom there is expression. And nowhere will you find more free spirits than Key West, Florida. There is a magical allure to the Island. Poet Wallace Stevens described it as a "summer without end." It has attracted not only tourists, but also artists, musicians, and writers. Truman Capote, John Hersey, Gore Vidal, and Hunter Thompson have all called Key West home. But without question, Ernest Hemingway is Key West's most famous resident. When you're in the Keys, it's also hard not to imagine Jimmy Buffet and his tropical songs about laid-back living. No question, Jimmy Buffet's music helped put Key West on the map for a new generation of visitors.

The Chamber of Commerce also does its part by hosting a variety of celebrations throughout the year, including the Halloween Fantasy Fest, Conch Republic Days, and Hemingway Days, when droves of old men with white beards invade the island to vie for the coveted Hemingway look-alike title.

Key West has many interesting things to see and places to visit, including museums, historic sites, restaurants and bars. But to really experience it, you must get out of the water, because without a doubt, the most popular attraction is the warm, blue waters that surround the island. Visitors can choose from: snorkeling, jet ski rentals, and glass bottom boat rides to fishing charters, parasailing, dolphin encounters, and more.

What to eat
Seafood, Key lime pie, Conch fritters

What to drink
Rum Runner, Dank 'N' Stormy

How to go to Key West from Miami
Key West is approximately 160 miles (257 km) south of Miami, Florida. Most visitors who don't have transportation, take our bus from Miami and Miami Beach. Our Miami to Key West bus ride takes about 3 hours and 15 minutes. Greyhound has bus service to Key West, but it takes over 5 hours to get there. Miami Tour Company passengers are happy to know, our bus to Key West has free WiFi, extra legroom, comfy reclining seats, and big windows, perfect for sightseeing.

To Redeem Coupon Online
Click the SAVE-10 coupon button above. The Key West discount will automatically be deducted at checkout.


Watch this video of some real testimonials from customers who have taken our tours
About Miami Tour Company
In business since 2002, Miami Tour Company is the world's leading provider of Florida tours and transportation. We are family owned and operated, and believe that everything we do is to create a wonderful experience for you. We do this by making our tours fun and treating customers like friends.


We won a TripAdvisor Certificate of Excellence.

We have an 'A+' rating with the Better Business Bureau.

We transport over 35,000 passengers every year.

We own new buses
Meet the Owners, Michelle and Gus Moore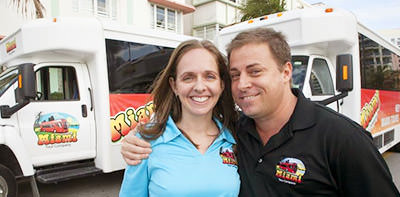 Miami Tour Company was founded by Michelle and Gus Moore; two local residents who met and married while working at a Miami steak house.

Michelle says "We got our start waiting tables. It was fun, the money was good, and the hours were flexible. We worked side-by-side, and the insights we learned were invaluable; it was the perfect training ground for running a tour company."

Choose us to be your local area travel expert.

We know Miami better than anyone.