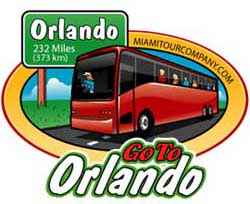 Miami to Orlando Bus Schedules
| | | | |
| --- | --- | --- | --- |
| Time | Type of Vehicle | Price | Pick-up Locations |
| 6:00 AM | Motorcoach | $35 | |
| 8:00 AM | Motorcoach | $35 | |
| 3:15 PM | Van | $50 | |
| 7:30 PM | Motorcoach | $35 | |
Orlando to Miami Bus Schedules
| | | | |
| --- | --- | --- | --- |
| Time | Type of Vehicle | Price | Pick-up Locations |
| 7:00 AM | Van | $50 | |
| 12:00 PM | Motorcoach | $35 | |
| 7:00 PM | Motorcoach | $35 | |
| 8:00 PM | Motorcoach | $35 | |
Some frequently asked questions you may find helpful:
Are reservations necessary?
Yes, the bus frequently sells out and only stops where it is scheduled.
Can I pay for my tickets on the bus?
No, to insure you have a seat, you must pay for the reservation in advance.
How do I make a reservation?
Book online, or call us at (305) 260-6855. Advance reservations are required. Cash is not accepted.

FRAUD CHECKING: Note that in order to best serve our customers, we have fraud protection in place to ensure that stolen credit cards are not used. Your IP address will be logged. Proper id is required for boarding.


How many bags can I take?
You may bring 2 pieces of baggage (not weighing more than 50 pounds each) and 1 carry-on bag per person.
How do I make a round-trip reservation?
Just add two one-way transfers to your cart.
What are the vehicles like?
The air-conditioned motor coaches can accommodate up to 60 passengers. They are current models manufactured by Van-Hool. All motor coaches are equipped with restrooms, as well as onboard movies.

The vans accommodate 14 passengers and are air conditioned. They are current models manufactured by Ford and Chevrolet.
How is seating assigned?
Seating is based on a first come, first serve basis.
Are food and beverages allowed?
Yes, food and beverages are allowed, but alcohol is not permitted.

What are some good items to bring on bus?
Smart phone, laptop computer, MP3 player, books, magazines, camera, snacks, and an a travel pillow.
Do you allow cell phone use?
Cell phone use is permitted but is limited with respect and courtesy to your fellow passengers.
Do you offer Wi-Fi service?
Wi-fi service is offered by some of the carriers at their discretion. Service is not guaranteed.
Can children travel alone ?
Yes, with a letter of authorization from the child's legal custodian.
How far in advance should I buy tickets?
Orlando is the most popular vacation destination in the U.S. Bus tickets do sell out. To ensure a seat, please buy your tickets at least 24 hours in advance. Note: Reservations made after 9:00 PM for the next day are not guaranteed.
Do you offer group rates?
Yes! Here's how it works. For parties of 8 persons or more, you can email us at info@miamitourcompany.com with the specifics of your group. Please leave us a phone number where we can reach you. If you prefer to speak with us right now, pick up the phone and call us at our office (305) 260-6855.
Why should I register for an account?
Registering is not required to use our shopping system. However, if you create an account, you can view your itinerary at any time and print a receipt from our website. Register here.
Here are some of the best reasons to reserve your travel with us:
Better tour experience

Fully licensed and insured

Hassle-free refunds

No charge to change your reservation

Increased driver safety

No tax or hidden fees

Free hotel pick-ups

100% secure website
Orlando videos
Do Miami Right
Miami to Orlando Bus Schedules
| | | | |
| --- | --- | --- | --- |
| Time | Type of Vehicle | Price | Pick-up Locations |
| 6:00 AM | Motorcoach | $35 | |
| 8:00 AM | Motorcoach | $35 | |
| 3:15 PM | Van | $50 | |
| 7:30 PM | Motorcoach | $35 | |
Orlando to Miami Bus Schedules
| | | | |
| --- | --- | --- | --- |
| Time | Type of Vehicle | Price | Pick-up Locations |
| 7:00 AM | Van | $50 | |
| 12:00 PM | Motorcoach | $35 | |
| 7:00 PM | Motorcoach | $35 | |
| 8:00 PM | Motorcoach | $35 | |